Byakko-sha
ABE Jun
October 9 Tue. – October 27 Sat. 2018
12:00–19:00 / Tue–Fri 12:00–17:00 / Sat 
Closed on Sunday and Monday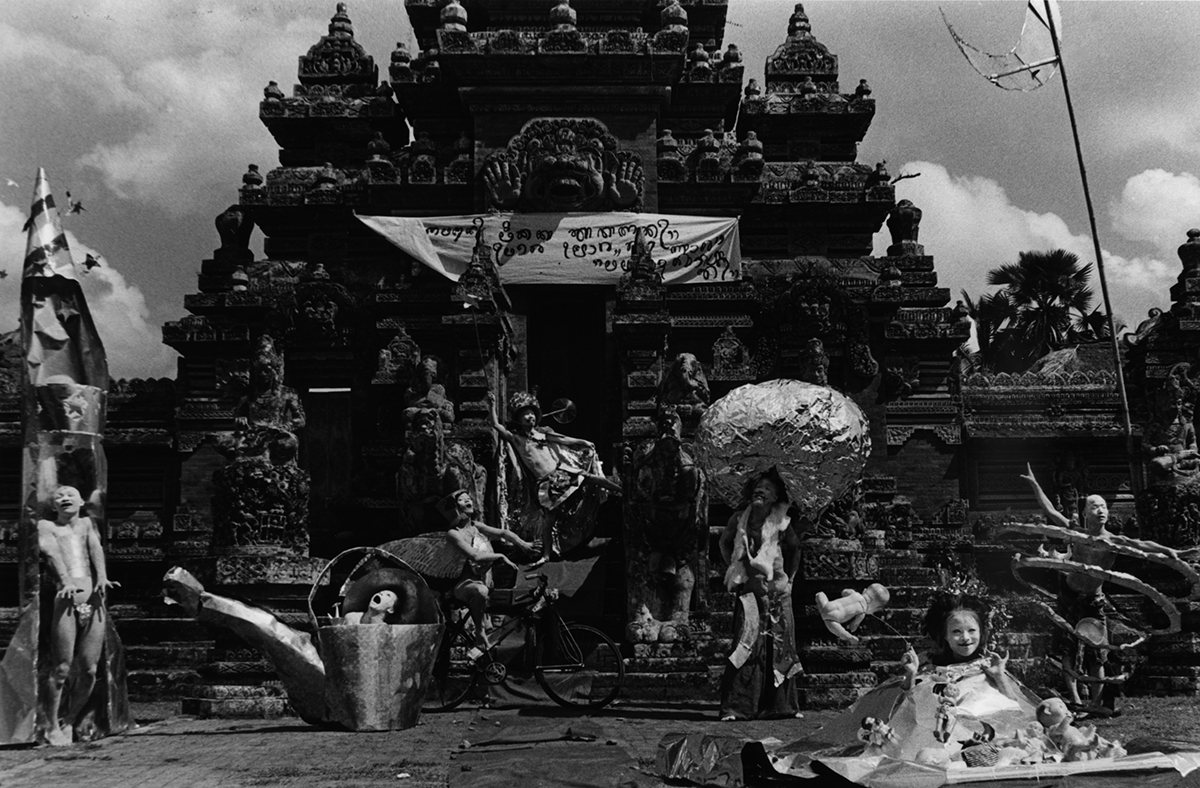 We are pleased to announce a solo show by Abe Jun, titled Byakkosha, in October.
As the staff cameraman for Byakkosha, a Butoh experimental dance troupe based in the Kansai region from 1982 to 1994, Abe took a wide variety of photos including pictures of onstage performances, publicity photos for flyers and posters, and pictures that were only for documentation purposes.
The images for press releases announcing their performances were produced by Abe based on discussions with Mr. Osuga Isamu, the group's leader and representative, and other members.
The onstage images were shot on site at performances, including in other countries, and were thoroughly staged, with props and compositions prepared. They should be regarded as collaborative works.
This is the first exhibition of these works since 1994, and the first ever in Japan.
Abe Jun
Outline
1955
Born in Osaka, Japan

1981
Graduate of Department of Photography, Osaka Shasin Senmongakko (currently Osaka Visual Arts)
1982
Work for the Butoh Dance Group 'Byakkosya'(-1994)
1983-86
Organize the Shashin Jyuku
1986-1988
Be staff of Little Gallery
2006
Organize the Publisher named VACUUM PRESS
2013
Awarded the 25th Shashin-no-kai Award
Lives in Osaka, Japan
Selected solo exhibitions
2018
Byakkosha. The Third Gallery Aya, Osaka, Japan
2017
Photo Letters. The Third Gallery Aya, Osaka, Japan
2016
1981. Gallery 722, Okayama, Japan
CREATURES. The Third Gallery Aya, Osaka, Japan
1981. Visual Arts Gallery, Osaka, Japan
2013
Awarded Exhibition of Shashin-no-kai Award-Citizens, Black & White Note and Black & White Note2. Place M, Tokyo, Japan

2012
Citizens/1983. Gallery Niepce, Tokyo, Japan
CITIZENS. The Third Gallery Aya, Osaka, Japan
2006
Black & White Note; Box. gallery 10:06, Osaka, Japan
2004
CITY. Visual Arts Gallery, Osaka, Japan
2002
Black & White Note. Visual Arts Gallery, Osaka, Japan
1998
Infinite-point. COSMO GALLERY, Osaka, Japan
1997
Citizens. COSMO GALLERY, Osaka, Japan
Stray Child Theory. COSMO GALLERY, Osaka, Japan
1989
Citizens. Picture Photo Space, Osaka, Japan
Creatures. Picture Photo Space, Osaka, Japan
Group Exhibitions
2022
The Wild Eighties. Taipei Fine Arts Museum, Taipei, Taiwan
2019
Animails. Vacuum Gallery, Osaka, Japan
2018
Chihei/Horizon. Case, Tokyo, Visual Arts Gallery, Osaka


2015
Fascination of Monochrome Street Snapshots. Irie Taikichi Memorial Museum of Photography Nara City, Nara, Japan
The 2nd Photographers Brigade Without Borders. Hatten Gallery, Osaka, Japan
2014
Foto Istanbul 2014. Istanbul, Turkey
2007
The 30th anniversary Photo Street-Super Session. Hyogo Prefectural Museum of Art, Kobe, Japan
1997
The 20th anniversary Photo Street-Super Session. Himeji City Museum of Art, Himeji, Japan
1995
Views from Japan. Tucson, AZ
1994
Creatures. Kathleen Ewing Gallery, Washington D.C.
1984
Photography Now. Osaka Prefectural Contemporary Art Center, Osaka, Japan
Art Fair
| | |
| --- | --- |
| 2018 | Paris Photo2018. Grand Palis, Paris, France |
| 2017 | ART in PARK HOTEL TOKYO 2017. PARK HOTEL TOKYO, Tokyo, Japan |
| 2016 | daikanyama photo fair 2016. Daikanyama Hillside Terrace, Tokyo, Japan |
| 2013 | Paris Photo 2013. Grand Palais, Paris, France |
Publications
2021
Black & White Note 3. Osaka: VACUUM PRESS
2020
2002. Osaka: VACUUM PRESS
2002 Naha,Koza. Osaka: VACUUM PRESS
2019
Civil Society. Osaka: VACUUM PRESS
Chihei/Horizon Vol.12. Tokyo: Case Publishing
2018
2016(top). Osaka: VACUUM PRESS
2016(bottom). Osaka: VACUUM PRESS
Chihei/Horizon Vol.11. Tokyo: Case Publishing
2017
New York. Osaka: VACUUM PRESS
2016
1981 Kobe. Osaka: VACUUM PRESS
2015
1981(top). Osaka: VACUUM PRESS
1981(bottom). Osaka: VACUUM PRESS
2014
Pusan. Osaka: VACUUM PRESS
2013
2001. Osaka: VACUUM PRESS
2012
Black & White Note 2.Osaka: VACUUM PRESS
2011
MANILA. Osaka: VACUUM PRESS
2010
Black & White Note. Osaka: VACUUM PRESS
2009
Citizens. Osaka: VACUUM PRESS
2007
Osaka. Osaka: VACUUM PRESS
1993
HORIZON. Osaka: Osaka Syashin Senmon Gakko
1989
Creatures. Village Press