Diary 2020
INAGAKI Tomoko
November 14 Sat–December 12 Sat,2020
By appointment only on Tuesday. Please send an email to info@thethirdgalleryaya.com
by the 12:00 on Monday.
We open 12:00-19:00 from Wednesday to Friday and open12:00-17:00 on Saturday.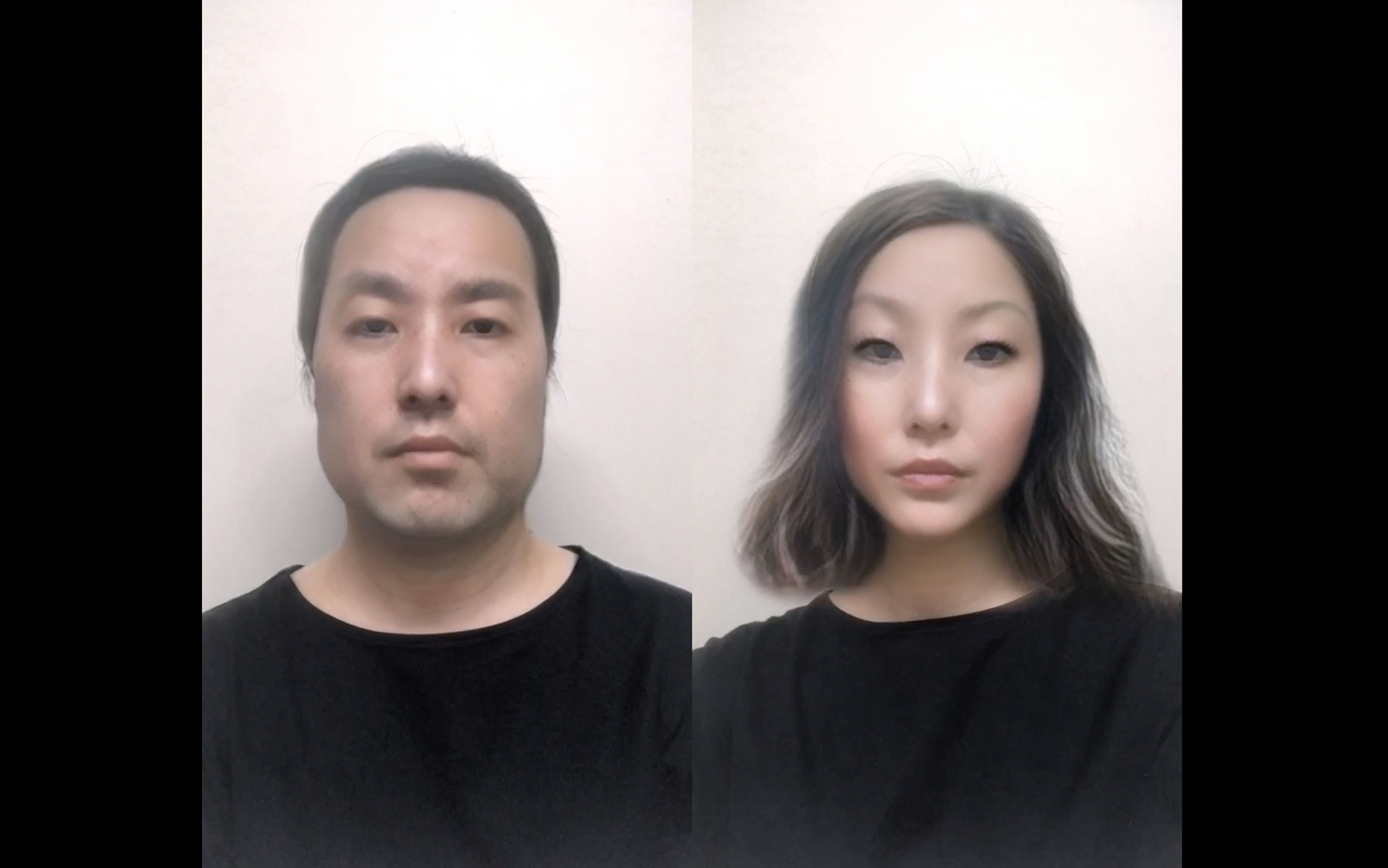 The Third Gallery Aya is very pleased to announce an exhibition by INAGAKI Tomoko.
The works of Inagaki Tomoko, in various media including video, photography, and installation, primarily focus on Japanese society and gender issues. Here, we are pleased to present three of her video works produced in 2020 since the COVID-19 pandemic began.
In her new video piece Love Has No Face, Inagaki alone plays both male and female roles using a gender conversion function on the Snapchat video messaging app. How do people judge each other on the basis of gender and age? The work offers various perspectives, which differ depending on the viewer, on the theme of "love."
Also on view will be the 2020 version of Inagaki's Doors, a video project ongoing since 2013 in which she opens a door and enters a room once a year, as well as a new work in which, like the other two, the artist herself performs.
The three works in this exhibition, all highly performative in nature, were created under the circumstances of the pandemic, wherein meeting others has become difficult and many are spending longer periods of time in introspection. They will be shown with the collective title Diary 2020, representing the artist's own self-exploration.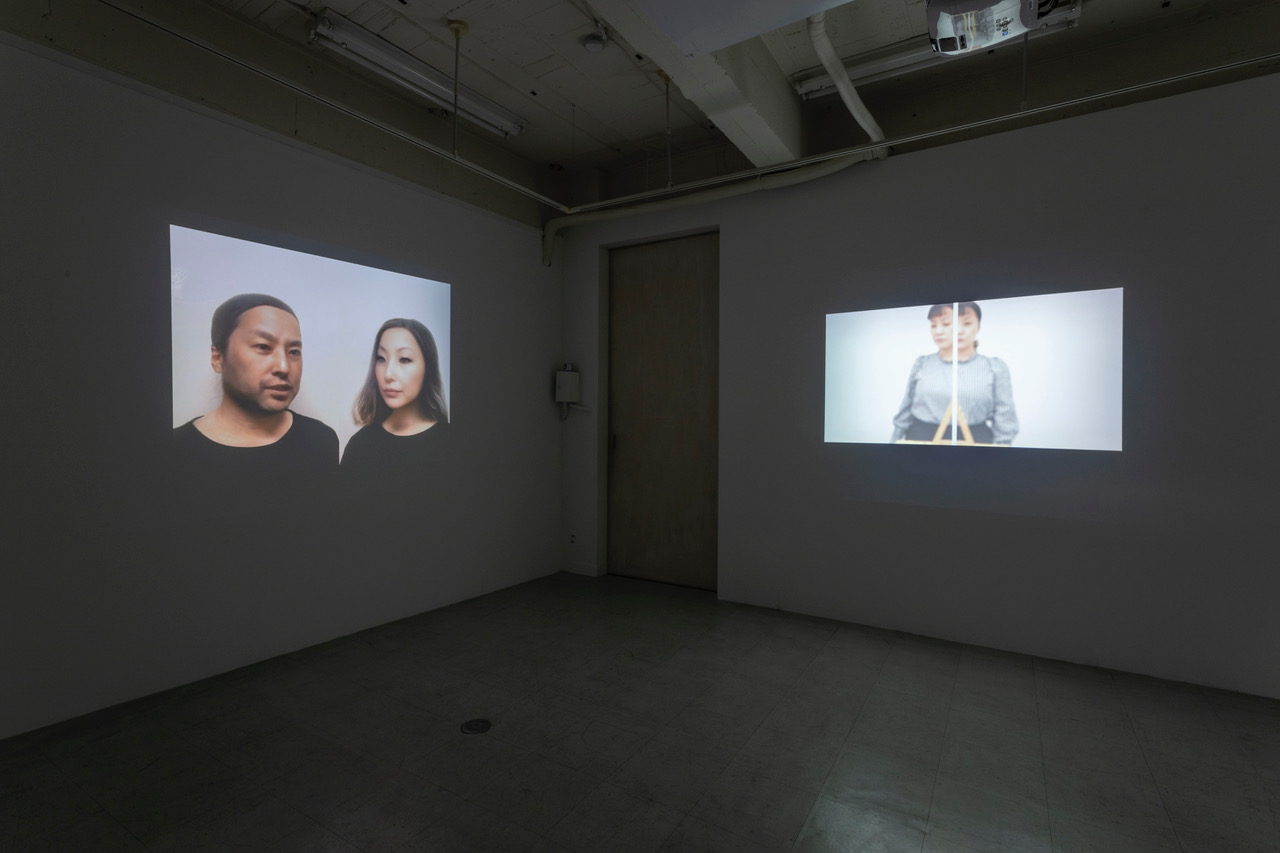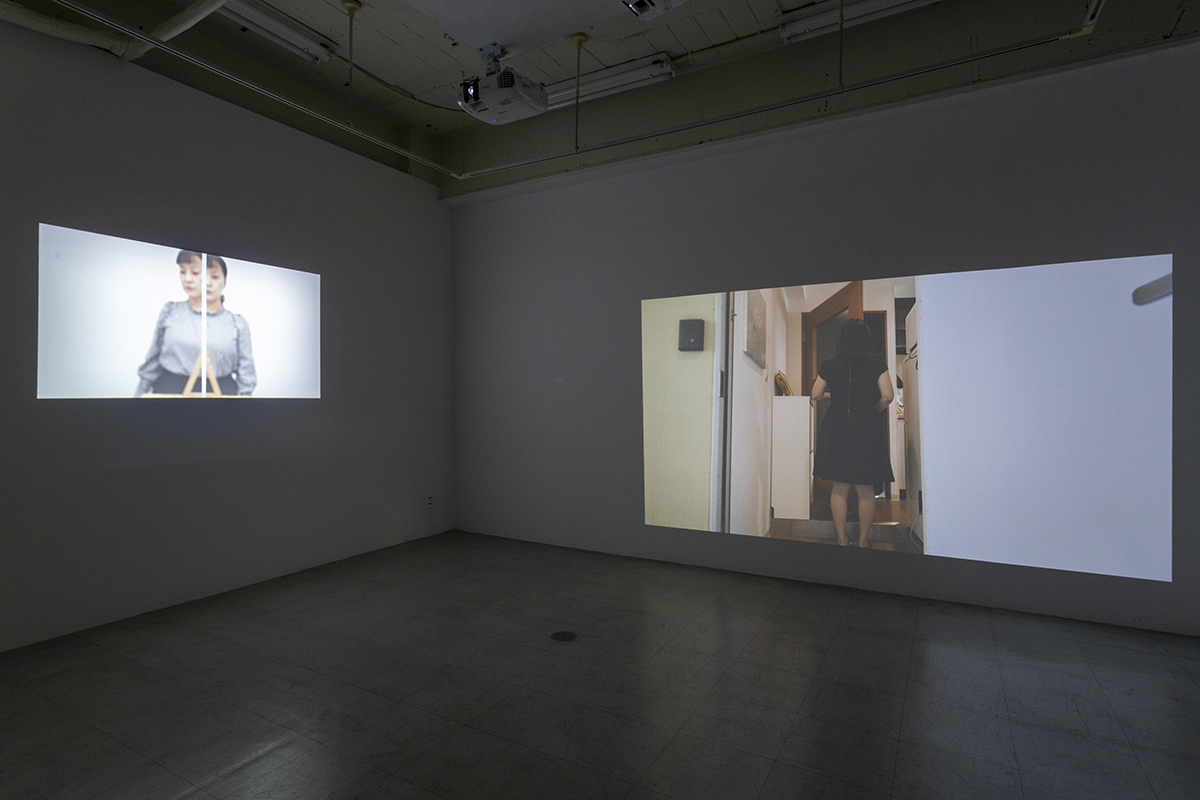 Inagaki Tomoko
Outline
| | |
| --- | --- |
| 2001 | B.A., Fine Arts at Middlesex University, England |
| 2016 | Live in Osaka |
Selected Solo Exhibition
2021
Whiteout. CAS, Osaka
2020
Diary 2020. The Third Gallery Aya, Osaka

2018
Decalcomanie. The Third Gallery Aya, Osaka
2017
Ghost. Art-U room, Tokyo
2016
TEGAMI – Perspektiven japanischer Künstler – Tomoko Inagaki. FRISE – Künstlerhaus Hamburg e.V.
2015
Voice. The Third Gallery Aya, Osaka
2014
Forcing House. Art-U room, Tokyo
2013
Project "Mirrors. Kyoto Art Center, Kyoto
2011
Ma -Aida-. msc Gallery, Doshisha Women's University, Kyoto

2010
Peals. The Third Gallery Aya, Osaka
2007
Outo. Enghien les Bains Art Center, France
Wave. Dawn Center, Osaka
Vomit. Osaka Contemporary Art Center, Osaka
2006
The Dark Hours of the Forest in the Red Room. G-wings Gallery, Kanazawa
My Real Name. The Third Gallery Aya, Osaka
2005
Dune/Trip. PH Gallery, NY
2004
Soap Opera. Art-U room, Tokyo
2003
Underneath the Twinkling Stars. Krinzinger Projekte, Vienna
2002
Dream Island. CAS, Osaka
Selected Group Exhibitions
2021
open studio. SSK, Osaka
Kyotentai Exhibition. +1 art, Osaka, Japan
KAWAKYU ART Exhibition 2022. Kawakyu Museum, Shirahama, Japan
2020
HER / HISTORY. Kishiwada City Jisenkaikan, Kishiwada
2019
Reading Fermentation. +1 art, Osaka
Waves and Frequencies. FRISE – Künstlerhaus Hamburg e.V.
2017
Melting Point 2. MEM, Tokyo
12 Messages -Marine. +1 art, Osaka
2016
WROUGHT. One to One Performance Festival, Sheffield
Screening 'Melting Point' + TEGAMI Project from Hamburg. The Third Gallery Aya, Osaka
2015
TEGAMI – Perspektiven japanischer Künstler, Das Japanesche Haus Leipzig
Gakuen Art Week. Gallery GM-1, Nara
2014
I'm home Pre exhibition. Calo Gallery, Osaka
I'm home. Jisen Center, Osaka
2013
Kyoto Current 2013. Kyoto Municipal Museum of Art,Kyoto
2011
Nara Video Kotenpandant. Nara City
2010
Transmediale 10. The Haus der Kulturen der Welt, Berlin
Duo Exhibition "Tomoko Inagaki and Svenja Maass". Kunstverein Harburger Barnhof, Hamburg
video_dumbo The Dumbo Art Center, Brooklyn, New York
2009
Twinism. Kunsthaus,Hamburg / AD&A Gallery, Osaka
2008
Bains Numeriques #3. Centre des Arts Enghien les Bains, France
Nuitnumerique #6. Centre Culturel Caint-Exupery, Reims, France
Talk & Exhibition 2008 – Video Art Activities. Ox Warehause ,Macau
2007
I meet…. Kaigandori gallery CASO, Osaka
2005
Open Submission. Hiroshima City Museum of Contemporary Art
Mirage in Summer. Gunma Museum of Art,
2004
Osaka Art Caleidoscope: Spring Flower Life. CASO, Osaka
Art Court Frontier. ARTCOURT Gallery, Osaka
Pilot Plant. Contemporary Art Factory, Tokyo / Kaigandori gallery CASO, Osaka
Bunkamura Art show 2004 "Landing". Bunkamura Gallery, Tokyo
Open Studio. ARCUS, Ibaraki
2003
Enter Human. CCA Kitakyusyu, Fukuoka
Komorebi. Art Tower Mito, Ibaraki
2002
Kobe Art Annual "Millefille". Kobe Art Villege Center, Hyogo
2001
The National Review of Live Art. The Arches, Glasgow
2000
Show Reel. Gallery291, London
East End Collaboration 2000. Queen Mary and Westfield College, London
Bang. Standpoint Gallery, London
The Third Festival of Experimental Art and Performance Manezh Central Exhibition Hall, St. Petersburg
1998
Dairy. Quicksilver Gallery, London(Toured to Paris and Brussels)
Other
2014
Vermont Studio Center 2014(Artist in Residence). Vermont, U.S.
2012
Awarded for eAT KANAZAWA Digital Creative Award 2012
2009~10
Kunstler zu Gast in Harburg(Artist in Residence). Hamburg, Germany
2006~07
The 17th Art-Ex Osaka(Artist in Residence). Enghien les Bains, France
2006
Awarded for Image Forum 2006, Japan
Video for fluXS (Jean Gaudin), theater db,Osaka
2004
ARCUS PROJECT 2004 (Artist in Residence)
Theatrical Design for Le Cabinet Dore, Tokyo FM Hall
2002
Accepted for the Fifth Shiseido ADSP
1999
Ray Finnis Award 1999, England