Forest of Figgs
Mima Akasaki
2013. 3.26 Tue - 2013. 4.20 Sat
12:00-19:00/Tue-Fri 12:00-17:00/Sat closed on Sun and Mon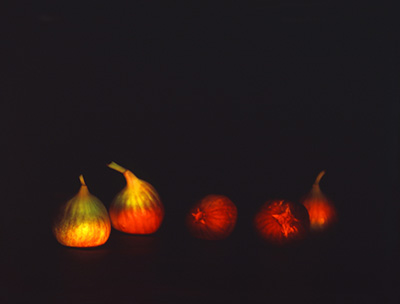 The Third Gallery Aya is pleased to announce a solo show titled "Forest of Figs" by Mima Akasaki from the end of March to the beginning April.
Akasaki makes photographs of vivid ring-shaped objects, and olives, clovers as if they were illumined by the light of Hope. She has continued to make work dealig with various aspects of light. In her new works, she focuses on figs. These photographs will entice you into another world.
There will be a talk between the artist and curator. They will discuss the artists's pictures for Koike Mariko's book "Forest of Figs" and the books she encountered during her one-year stay in the Czech Republic.
Akasaki Mima
Outline
| | |
| --- | --- |
| 1965 | Born in Kobe |
| 1988 | Graduated from the Department of industrial Interior, and Craft Design, Musashino Art University |
| 1997 | Bluemale Award |
| 2003 | The 6th ADSP (Art Documents Support Program by SHISEIDO) |
Solo Exhibitions
2013
The Forest of Fig. The Third Gallery Aya, Osaka, Japan
2011
The Landscape of Light -in Czech Republic. Galerie Ashiya Schule, Ashiya, Japan
2009
Setkani se svetlem. Informacni turistiche centrum Osek, Osek, Czech Republic
Setkani se svetlem. Galarie Jansky Vresek, Praha, Czech Republic
2006
The Garden of Light. Japanese tea cafe "Hitohi", Kobe, Japan
2004
The series of Lotus. Gallery LA FENICE ,Osaka, Japan
Meet the light. Fuji Photo Gallery, Osaka, Japan
The Olive of Winter. Art Space Niji, Kyoto, Japan
2001
Luminous/Flowers. Galleria Chimera, Tokyo, Japan
Luminous/Flowers. Gallery LA FENICE, Osaka, Japan
1998
Gallery LA FENICE, Osaka, Japan
1997
Tamayura -time&space-. Gallery LA FENICE, Osaka, Japan
1996
Gallery αm, Tokyo, Japan
Gallery LA FENICE, Osaka, Japan
1993
Brain Center Gallery, Osaka, Japan
AKI-EX Gallery, Tokyo, Japan
1992
Galleria Chimera, Tokyo, Japan
Gallery Coco, Kyoto, Japan
Moris Gallery, Tokyo, Japan
1991
Gallery Coco, Kyoto, Japan
Ban Gallery, Osaka, Japan
1990
Gallery NW House, Tokyo, Japan
1989
Muramatsu Gallery, Tokyo, Japan
Group Exhibitions
2018
The Garden of Absence: The Last Chapter. Art Space Niji, Kyoto, Japan
2013
ART OSAKA 2013. Hotel Granvia Osaka, Osaka, Japan
2010
DOMANI: The Art of Tomorrow. The National Art Center, Tokyo, Japan
2007
Art Fair Tokyo 2007. Tokyo International Forum, Tokyo, Japan
2006
Gift,the store. Spiral, Tokyo, Japan
From the Garden. The Third Gallery Aya, Osaka, Japan
What I'm doing. The Third Gallery Aya, Osaka, Japan
2006
From the Garden. The Third Gallery Aya, Osaka, Japan
2006
What I'm doing-Eiko Yamazawa and Mima Akasaki. The Third Gallery Aya, Osaka, Japan
2004
On Flowering Images; Contemporary Japanese Photography. Tokyo Metropolitan Museum of Photography, Tokyo, Japan
Take art collection. Spiral Garden, Tokyo, Japan
2003
Tresure of light. Hamada Children's Museum of Art, Hamada, Japan
Take art collection. Spiral Garden, Tokyo, Japan
2002
Prayer for Love and Peace. People' s Gallery Miyazaki Prefectural Art Museum, Miyazaki, Japan
1999
The Vision of Contemporary Art '99. The Ueno Royal Museum, Tokyo, Japan
Prerude. Gallery La Fenice, Osaka
Perspectives for Modern Japanese Painting. Tokyo Station Gallery, Tokyo, Japan
1998
Techno Therapy. Osaka Central Public Hall, Osaka, Japan
Techno Therapy in OAP. Osaka Amenity Park, Osaka, Japan
1997
The Story in Your Hands. Ashiya City Museum of Art&History, Ashiya, Japan
The time of Blue. Gallery La Fenice, Osaka, Japan
1996
Art Scene 90-96. Contemporary Art Center, Art Tower Mito, Mito, Japan
1995
Duo-Exhibition. Takashimaya Department Store Contemporary Art Space, Tokyo, Japan
Report On. Gallery La Fenice, Osaka, Japan
Vessel of Time-On This Horizon. Art Space Niji, Kyoto, Japan
1994
Photography by 3 Women. Kirin Plaza Osaka, Osaka, Japan
Water Front Open Air Play. Rokko Island Marine Park, Kobe, Japan
Nine Young Artists From Japan. Orchard Gallery, Derry, Northern Ireland
1993
Art from Ashiya Exhibition. Ashiya City Museum of Art&History, Ashiya, Japan
Speaking Thru Photographs. Tokyo University of Arts, Tokyo, Japan
Hyogo Contemporary Art Exhibition. Hyogo Prefectural Museum of Modern Art, Kobe, Japan
1992
Hyogo Contemporary Art Exhibitions. Hyogo Prefectual Museum of Modern Art, Kobe, Japan
Kyoto City Selected Arts Exhibition. Kyoto Municipal Art Museum, Kyoto, Japan
1991
The World of the Box. Contemporary Art Center, Art Tower Mito, Mito, Japan
Window Gallery / Art Junction 6. Hankyu Department Store, Osaka, Japan
Public Work
| | |
| --- | --- |
| 1998 | Eleven Doors. Comunity & Art Project for Minami-Ashiyahama Corporative Housing, Ashiya, Japan |