hiroshima six
Ishiuchi Miyako
2010. 11.13 Sat - 12.18 Sat
12:00-19:00/Tue-Fri 12:00-17:00/Sat closed on Sun and Mon. 2010.11.14 Sun 12:00 - 17:00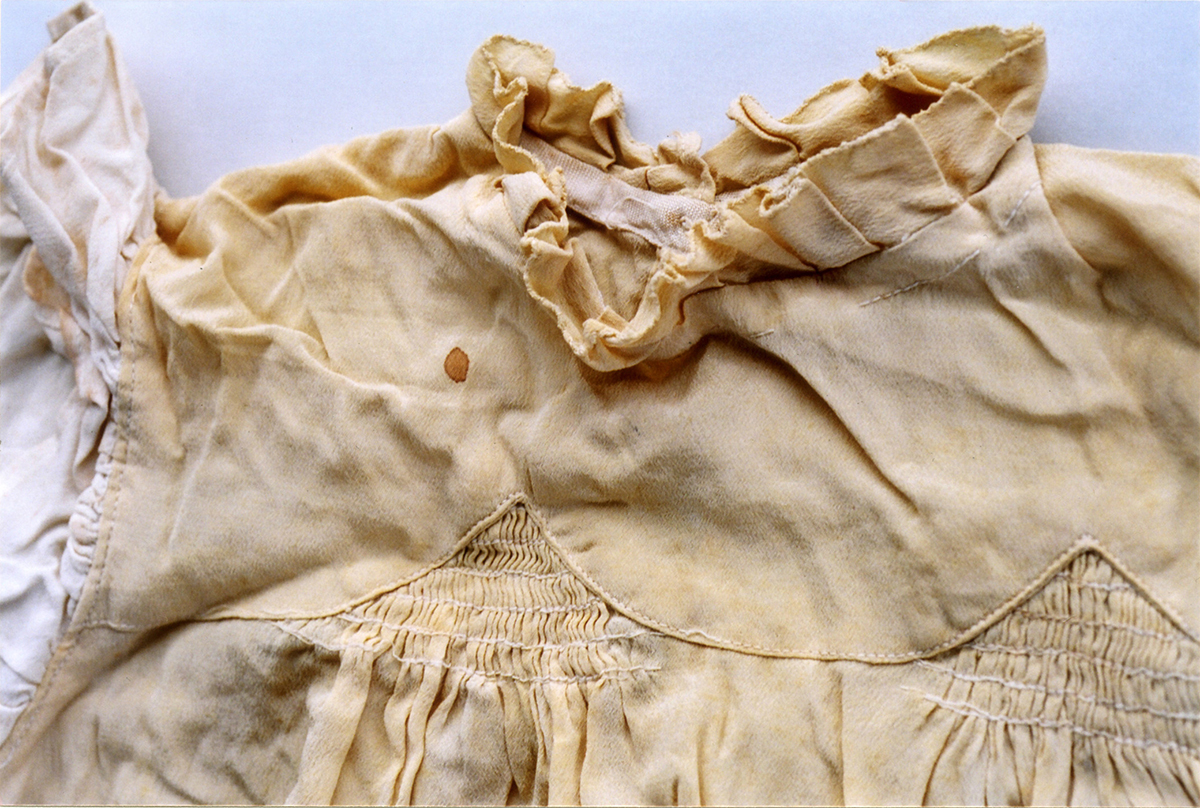 The Third Gallery Aya is pleased to announce a solo show by Miyako Ishiuchi which runs from November 13 to December 18, 2010. This is her first exhibition in 5 years in the Kansai area.
"hiroshima" was first shown at Hiroshima City Contemporary Museum in 2008. The exhibition and the photo book "hiroshima" were awarded the 50th Mainichi Art Award. Following two big retrospective shows, these works were shown at Sakima Museum, which is located next the U.S. military base in the Futenma. This series shows the contrast between a complicated theme and a beauty of objects which continue to live in Hiroshima.
We would like to show new works depicting objects which Ishiuchi photographed in 2010 given by the family of the victims
This will be the smallest but most concentrated of the last exhibitions.These objects have existed for 60 years after the owners have been lost. They becoming photographs, their existence grows more vivid.
On November 14th we will hold the talk between the artist and Yoshioka Hiroshi who is a professor of Kyoto University . Please join us.
Ishiuchi Miyako
Outline
| | |
| --- | --- |
| 1947 | Born in Gunma |
| 1953 | Moves to Yokosuka |
| 1966 | Entries Tama Art University, major in design and textiles |
| 2007 | Starts photographing the "ひろしま/hiroshima" series at the Hiroshima Peace Memorial Museum |
Prize
1979
Awarded the 4th Kimura Ihei Memorial Photography Award
1999
Awarded the 11th Shashin-no-kai Award
Awarded the 15th the Domestic Photographer Award of the Higashikawa Award
2003
Awarded the 15th Shashin-no-kai Award
2006
Awarded the Photographic Society of Japan's Lifetime Achievement Award
2009
Awarded the 50th Mainichi Art Award
2011
Awarded the 60th Kanagawa Culture Award
2013
Awarded the Medal with Purple Ribbon
2014
Awarded the Hasselblad Award 2014
2016
Awarded the Avon Awards to Women 2016
2023
Awarded the Asahi Prize 2022
Solo Exhibitions
2023
Naked Rose. SUPER LABO STORE TOKYO, Tokyo, Japan
2022
Ishiuchi Miyako. Each Modern, Taipei, Taiwan
Ishiuchi Miyako. Stills, Edinburgh, Scotland
Ishiuchi Miyako in Tsudajuku. Tsuda University , Tokyo, Japan
2021
Seen and Unseen -Tracing Photography. Otani Memorial Art Museum, Nishinomiya, Japan
2020
Sprits Rising-ひろしま/hiroshima. Portland Japanese Garden Gallery, Portland, OR
2019
Fabric of Memory- From ひろしま/hiroshima. Irie Taikichi Memorial Museum of Photography, Nara, Japan
Ishiuchi Miyako. Fergus McCaffrey, New York, NY
Ishiuchi Miyako Exhibition-The Story of Two Women: Miyako and Chihiro. Chihiro Art Museum, Tokyo, Japan
2018
Frida A Photographic portrait. Michael Hoppen Gallery, London, England
2017
Art Basel Hong Kong 2017. Hong Kong Convention & Exhibition Centre, Hong Kong
Grain and Image. Yokohama Museum of Art, Yokohama, Japan
2016
Childhood Garments. Iwami Art Museum, Masuda, Japan
Frida is. Shiseido Gallery, Tokyo, Japan
Childhood Garments. Kamakura Gallery, Kamakura, Japan
2015
Frida by Ishiuchi Miyako. Michael Hoppen Gallery, London, England
Ishiuchi Miyako-Postwar Shadows. J. Paul Getty Museum, Los Angeles, CA
Dikanyama photo fair 2015. Daikanyama Hillside Terrace, Tokyo, Japan
2014
Semamori-Stitched Amulets on the Back of Children's Kimono's. Lixil Gallery, Osaka and Tokyo, Japan
For Young Children's Clothing. Lixil Gallery, Tokyo, Japan
Here and Now: Atomic Bomb Artifacts, ひろしま/Hiroshima 1945/2007— . Andrew Roth Gallery, New York, NY
Ishiuchi Miyako -The Fabric of Photography. Hasselblad Center, Gothenburg, Sweden
Paris Photo 2014. Grand Palais, Paris, France
2013
sa・bo・ten. CAPSULE, Tokyo, Japan
sa・bo・ten. Gallery G, Hiroshima, Japan
Ishiuchi Miyako. Michael Hoppen Gallery, London, England
2012
SILKEN DREAMS. The Marugame Genichiro-Inokuma Museum of Contemporary Art, Marugame, Japan
ひろしま/hiroshima via Vancouver. Embassy of Canada Prince Takamado Gallery, Tokyo, Japan
2011
From [Mother's] to [hiroshima]. 11th Documentary Photo Festival Miyazaki, Miyazaki, Japan
ひろしま/hiroshima in NAGANO. Naganoken Kenminbunka Kaikan, Nagano, Japan
ひろしま/hiroshima by ISHIUCHI MIYAKO. The Audian Gallery of Museum of Anthropology at Brisith Columbia University, Vancouver, Canada
Ishiuchi Miyako. Paris Photo, Paris, France
2010
Sweet Home Yokosuka 1976-1980. Andrew Roth Gallery, New York, NY
ひろしま/hiroshima in OKINAWA. Sakima Art Museum, Ginowan, Japan
Tokyo Bay Blues. Sokyusha, Tokyo, Japan
ひろしま/hiroshima six, The Third Gallery Aya, Osaka, Japan
2009
Ishiuchi Miyako Infinity. The Museum of Modern Art, Gunma, Takasaki, Japan
Ishiuchi Miyako on the wind of Jyoshu 1976/2008. Okawa Museum of Art, Kiryu, Japan
2008
Clubs Courts Apartments Ishiuchi Miyako. Andrew Roth Gallery, New York, NY
Miyako Ishiuchi photographs 1976-2005. Langhans Galerie, Prague, Czech Republic; traveled to Foam, Amsterdam, Nederland; La Filature, Mulhouse, France and Michael Hoppen Gallery, London, England.
ひろしま/hiroshima Strings of Time. Hiroshima City Museum of Contemporary Art, Hiroshima, Japan
Ishiuchi Miyako Hiroshima/Yokosuka. Meguro Museum of Art, Tokyo, Japan
ひろしま/hiroshima is....... Zeit-Foto Salon, Tokyo, Japan
2007
Mother's. Art Gallery of New South Wales, Sydney, Australia
Innocence. Zeit-Foto Salon, Tokyo, Japan
2006
Mother's. Aurora arte Contemporanea, Trent, Italy
Ishiuchi Miyako mother's. Tokyo Metropolitan Museum of Photography, Tokyo, Japan
2005
Mother's. The Third Gallery Aya, Osaka, Japan
Innocence. Zeit-Foto Salon, Tokyo, Japan
mother's 2000-2005 - traces of the future. The 51st international art exhibition of la Biennale Venezia, Venice, Italy
Timeless encounters in the photography of Miyako Ishiuchi. House of Shiseido, Tokyo, Japan
2003
Mother's. Sepia International, New York, NY
Mother's. Yokohama Portside Gallery, Yokohama, Japan
2002
Works of Miyako Ishiuchi. Photographers' Gallery, Tokyo, Japan  
Mother's. C Square, Nagoya, Japan
2001
Endless Night 2001. Taka Ishii Gallery, Tokyo, Japan
Endless Night 2001. The Third Gallery Aya, Osaka, Japan
Miyako Ishiuchi Exhibition. Aya Bis, Osaka, Japan
Nail. Galerie deux, Tokyo, Japan
2000
1·9·4·7 Hands,Feet,Face. Gallery RAKU, Kyoto, Japan
1·9·4·7 Hands,Feet,Face. The Third Gallery Aya; amus, Osaka, Japan.
1999
Scars. Zeit-Foto Salon, Tokyo, Japan
Miyako Ishiuchi : Time Textured in Monochrome. National Film Center; The National Museum of Modern Art, Tokyo, Japan
Body and Air. Polaroid Gallery, Tokyo, Japan
1998
Yokosuka Again. Gallery Verita, Tokyo, Japan
Yokosuka Again. The Third Gallery Aya, Osaka, Japan
1997
1·9·4·7. Zeit-Foto Salon, Tokyo, Japan
Yokosuka Story. Past Rays Photo Gallery, Yokohama, Japan
1996
Chromosome XY. The Third Gallery Aya, Osaka, Japan
1995
To the Skin. Ouka Shorin, Nagano, Japan
Hiromi 1995. Gallery Verita, Tokyo, Japan
Chromosome XY. Zeit- Foto Salon, Tokyo, Japan
1994
To the Skin. Gallery Te, Tokyo, Japan
1·9·4·7. Laurence Miller Gallery, New York, NY
1906 To the Skin. Dickson Foundation Gallery, Charlotte, NC
1993
Interior3. Gallery Te, Tokyo, Japan
1992
Interior2. Gallery Te, Tokyo, Japan
1991
Interior. Past Rays Photo Gallery, Yokohama, Japan
1988
From Yokosuka Third Position. Room 801, Tokyo, Japan
1986
Tokyo Bay Cities in Yokosuka. Saikaya Salon, Yokosuka, Japan
1985
Tokyo Bay Cities. Osaka Nikon Salon, Osaka, Japan
Endless Night. Space Aupa, Nagoya, Japan
1984
Tokyo Bay Cities. Ginza Nikon Salon, Tokyo, Japan
1982
Bottled Time / Tokyo Dental College. Ginza Nikon Salon, Tokyo, Japan
1981
From Yokosuka. Cabaret 2nd New Yokosuka, Yokosuka, Japan
Endless Night. Workshop Observatory, Yokosuka, Japan
1980
Endless Night. Ginza Nikon Salon; Shinjyuku Nikon Salon, Tokyo, Japan
1979
The 4th Kimura Ihei Memorial Photography Award Exhibition -in Apartment-. Ginza Nikon Salon; Shinjyuku Nikon Salon, Tokyo, Japan
1978
Apartment. Ginza Nikon Salon, Tokyo, Japan
1977
Yokosuka Story. Ginza Nikon Salon, Tokyo, Japan
Group Exhibitions
2023
Square. Gallery 58, Tokyo, Japan
Thinking about Caring and Motherhood through Contemporary Art. Art Tower Mito, Mito, Japan.
Before/After. Hiroshima City Museum of Contemporary Art, Hiroshima, Japan.
Views through my window. KYOTOGRAPHIE (Kondaya Genbei Chikuin-no-Ma), Kyoto, Japan
CAMK Collection Vol.7 Memory Storage for The Future. Contemporary Art Museum Kumamoto, Kumamoto, Japan
Collection: Photography. The Museum of Modern Art, Gunma, Takasaki, Japan
2022
Square-30x30cm. Gallery58, Tokyo, Japan
Study: Osaka Kansai International Art Fair. Grand Front Osaka, Osaka, Japan
Shifting the Silence. San Francisco Museum of Modern Art,SF
Beautiful Roses: centering on Les Roses by Pierre-Joseph Redouté. The Museum of Modern Art, Gunma, Takasaki
MOT Collection. The Museum of Contemporary Art, Tokyo, Tokyo
Mirrors and Windows. Asama International Photo Fesvival, Miyota
MOMAT Collection. The National Museum of Modern Art, Tokyo, Tokyo, Japan
2021
Square-30x30cm. Gallery58, Tokyo, Japan
The Seventieth Anniversary of the Hiroshima Panels. Okawa Museum of Art, Kiryu, Japan
Frida Love and Pain. Chelsea Music Festival, New York, NY.
Decades 2000_2020. Kana Kawanishi Photography, Tokyo, Japan
CONTEMPORARY JAPANESE PHOTOGRAPHY 1985-2015. Tokyo Photographic Art Museum, Tokyo, Japan
Collection3: Between Visible and Invisible. The National Museum of Art, Osaka, Osaka, Japan
Mother!. Louisiana Museum, Humlebæk, Denmark; traveled to Kunsthalle Mannheim, Mannheim, Germany
Dress Code-Are You Playing Fashion? The Bundeskunsthalle, Bonn, Germany
YAMAZAWA Eiko,OKANOUE Toshiko, ISHIUCHI Miyako 2021. The Third Gallery Aya, Osaka, Japan; traveled to Capsule, Tokyo, Japan
Reversible Destiny- Australian and Japanese contemporary photography. Tokyo Photographic Art Museum, Tokyo, Japan
Ishiuchi Miyako From Distant Future and Jyoshu. Okawa Museum of Art, Kiryu, Japan
Paris Photo 2021. Grand Palais Ephémère, Paris, France
2020
DOMANI: The Art of Tomorrow 2020 -Landscapes in Our Age: Scarred and Reborn. The National Art Center, Tokyo, Japan
Artists in Kiryu 2020. Okawa Museum of Art, Kiryu, Japan
Memories in Thread from the Collection of Arts Maebashi. Arts Maebashi, Maebashi, Japan
Golden Age: Five Masters of Japanese Photography. Three Shadows Photography Art Centre, Beijing, China; traveled to Three Shadows Photography Art Centre, Amoi, China; Chengdu Contemporary Image Museum, Chengdu, China
Collection. Okawa Museum of Art, Kiryu, Japan
2020-2 Collection Highlight & Special Feature: Portrait of Self and Others. Hiroshima City Museum of Contemporary Art, Hiroshima, Japan
Dazzling Skins: Life Illuminated From Death. Ashikaga Museum of Art, Ashikaga, Japan
Hasselblad Award 40 Years. Hasselblad Center, Gothenburg, Sweden
Memories of the Place: Anamnesis. Arts Maebashi, Maebashi, Japan
2019
Collection3-Image of something invisible. The National Museum of Art, Osaka, Japan
The Gaze of Things, Japanese Photography in the Context of Provoke. Bombas Gens Centre d'Art, Valencia, Spain
Body and Memory from Art Collection of Arts Maebashi. Arts Maebashi, Maebashi, Japan
CAMK Collection from New Acquisition. Contemporary Art Museum, Kumamoto, Kumamoto, Japan
Emancipation of Humanity: Focusing on Works by Female Artists-Primarily from the Museum Collection. The National Museum of Modern Art, Tokyo, Japan
Flash Memories. The Third Gallery Aya; Sai Gallery; Yoshimi Arts; Osaka, Japan
Art Book/Art Goods. BankART1929, Yokohama, Japan
My Body, Your Body, Their Body. Kana Kawanishi Gallery, Tokyo, Japan
Feel The Sun in Your Mouth: Recent Acquisition. Hirshhorn Museum and Sculpture Garden, Washington D.C.
Dress Code:Are You Playing Fashion?. The National Museum of Modern Art, Kyoto, Japan; traveled to Contemporary Art Museum, Kumamoto, Kumamoto, Japan; Tokyo Opera City Art Gallery, Tokyo, Japan
Art and Society-Contemporary Artists, Late period. Taro Okamoto Museum of Art, Kawasaki, Japan
2018
Life-The 100th Anniversary of Chihiro Iwasaki's Birth ひろしま/hiroshima Ishiuchi Miyako. Azumino Chihiro Art Museum, Nagano, Japan
VII Bienal de Arte Contemporáneo, Fundación ONCE. Fundación ONCE, Madrid, Spain
Around the small sea - Photography from Japan. Goeun Museum, Pusan, Korea
Body Politics: What Defines the Body?. Kana Kawanishi Photography, Tokyo, Japan
Yokohama Museum of Art Collection, Showa Portraits: Tracing the People and History of the Showa Era through Photography. Arts Maebashi, Maebashi, Japan
To Travel with Glasses. Aomori Museum of Art, Aomori, Japan; traveled to Iwami Art Museum, Masuda, Japan; Shizuoka Prefectural Museum of Art, Shizuoka, Japan
2017
Art in Park Hotel Tokyo 2017. Park Hotel Tokyo, Tokyo, Japan
MIMOCA's Collection: Artworks of All Kinds!. Marugame Genichiro-Inokuma Museum of Contemporary Art, Marugame, Japan
Somewhere I Have Never Travelled. URANO, Tokyo, Japan
Ishiuchi Miyako x A&S x mame. Art & Sceience, Tokyo, Japan
Collection. Okawa Museum of Art, Kiryu, Japan
The 9th Gelatin Silver Session-Portrait. Axis Gallery, Tokyo, Japan
Noroshi-Signal Flare For Our Future. Art Museum & Library, Ota, Ota, Japan
Okinawa where the photographers looked at, 1972-2017. Okinawa Prefectural Museum & Art Museum, Naha, Japan
2D Printers. Tochigi Prefectural Museum of Fine Arts, Utsunomiya, Japan
inframince-the photography as a film. The Museum of Modern Art, Gunma, Takasaki, Japan
20 Year Anniversary TOP Collection-Scrolling Through Heisei Part 2 Communication and Solitude. Tokyo Photographic Art Museum, Tokyo, Japan
Nihonbashi Art Photo Exhibition 2017-The world of Art Photography. Nihonbashi Mitsukoshi, Tokyo, Japan
Kumamoto Admirable. Contemporary Art Museum, Kumamoto, Kumamoto, Japan
CROSSROAD 2. ART BASE MOMOJIMA, Onomichi, Japan
Onomichi Art Crossroad. Onomichi, Japan
Aging Pride. Belvedere, Vienna, Austria
2016
ecce homo -The Human Images in Contemporary Art. The National Museum of Art, Osaka, Osaka, Japan
Tegami. Kamoe Art Center, Hamamatsu, Japan
Contemporary Photography Asian Perspectives. Laurence Miller Gallery, New York, NY
Dubai Photo. Dubai Design District, Dubai
Art in Park Hotel Tokyo 2016. Park Hotel Tokyo, Tokyo, Japan
Art Beijing. National Agriculture Exhibition Center, Beijing, China
eyes of six women-Miyako Ishiuchi, Yuki Onodera, Kunie Sugiura, Makiko Koie, Masumi Kura, Yuki Urakami. Zeit Foto Salon, Tokyo, Japan
Japanese Photography from Postwar to Now. San Francisco Museum of Modern Art, San Francisco, CA
Art Osaka 2016. Hotel Granvia Osaka, Osaka, Japan
Daikanyama photo fair 2016. Daikanyama Hillside Terrace, Tokyo, Japan
The Exhibition of the Collection of the Yokohama Museum of Art, collection 2016 Part 1. Yokohama Museum of Art, Yokohama, Japan
Unclear nuclear. URANO, Tokyo, Japan
Le Bal − Hommage a` Etsuro ISHIHARA Part 3 – − adagio canta, A Memorial Service for Etsuro Ishihara, Where Artist Friends Will Gather. Zeit Foto Salon, Tokyo, Japan
2015
For a New World to Come: Experiments in Japanese Art and Photography, 1968–1979. The Museum of Fine Arts, Houston, Houston, TX
Beyond Hiroshima- The Return of the Repressed-Wartime Memory, Performativity, and the Fictional In Contemporary Japanese Photography and Video Art . Tel Aviv University Gallery, Tel Aviv, Israel
The Memory of Time: Contemporary Photographs from the National Gallery of Art, Acquired with the Alfred H. Moses and Fern M. Schad Fund. National Gallery of Art, Washington, DC
Modern Blossoming Garden-Oita World Museum. Oita Prefectural Art Museum, Oita, Japan
Mother of Akiyama Yutokutaishi. Gallery58, Tokyo, Japan
Camera Atomica. Art Gallery of Ontario, Ontario, Canada
The Art of Life. The Museum of Modern Art, Gunma, Takasaki, Japan
Life=Work. Hiroshima City Museum of Contemporary Art, Hiroshima, Japan
The 70th Anniversary of the Atomic Bombings of Hiroshima and Nagasaki: War and Peace. Hiroshima Prefectural Art Museum, Hiroshima, Japan
Power of Photography. Hotel Granvia, Osaka, Japan
Art Osaka 2015. Hotel Granvia, Osaka, Japan
Girls- Beyond Sugar and Spice. Galerie Paris, Yokohama, Japan
2014
Fujifilm Photo Collection: My Single Photo-A collection of single photographs from doyens of Japanese photographic history. FUJIFILM SQUARE, Tokyo, Japan; traveled to Fuji Film Photo Salon, Osaka, Japan; Aichi Prefectural Museum of Art, Nagoya, Japan; Itami City Museum of Art, Itami, Japan; Hosomi Museum, Kyoto, Japan
Art Fair Tokyo 2014. Tokyo International Forum, Tokyo, Japan
Collection. Art Base Momoshima, Hiroshima, Japan
Intractable and Untamed: Documentary Photography around 1979. Museum Ludwig, Koln, Germany
Art Osaka 2014. Hotel Granvia Osaka, Osaka, Japan
HILLSIDE TERRACE Photo Fair 2014. Daikanyama Hillside Forum, Tokyo, Japan
Crossroad. Art Base Momoshima, Hiroshima, Japan
Wardrobe Memories. Arts Maebashi, Maebashi, Japan
Photography is. The Art Institute of Chicago, Chicago, IL
Herland. 60 Wall Gallery, New York, NY
Dreams of East Asia.BankArt Studio NYK , Yokohama, Japan
VENT NOUVEAU × 15 Photographers. Takeo Mihoncho-honten, Tokyo, Japan
Collection Ⅲ. The National Museum of Art, Osaka, Osaka, Japan
2013
Art Fair Tokyo 2013. Tokyo International Forum, Tokyo, Japan
Re:Quest. Museum of Art, Seoul National University, Seoul, Korea
Going beyond. Takaoka Art Museum, Takaoka, Japan
Memories of A City-Yokosuka in Photographs and Contemporary Art. Yokosuka Museum of Art, Yokosuka, Japan
Art Arch Hiroshima 2013-Peace Meets Art. Hiroshima Prefectural Art Museum, Hiroshima, Japan
Transformed Visions. Tate Modern, London, England
Art Osaka 2013. Hotel Granvia Osaka, Osaka, Japan
Home Truths: Photography, Motherhood And Loss. Foundling Museum, London; traveled to Belfast Exposed, Belfast, Northern Ireland.
Paris Photo 2013. Grand Palais, Paris, France
2012
Art Fair Tokyo 2012. Tokyo International Forum, Tokyo, Japan
The Allure of Collection- The 35th Anniversary of The National Museum of Art, Osaka. The National Museum of Art, Osaka, Japan
2011
Elegance and Grace:Beautiful People in East Asia. Ewha Women University Museum, Seoul, Korea
Timeless. The Third Gallery Aya, Osaka, Japan
HAUT. Kunsthaus Hamburg, Hamburg, Germany
SKIN/ Dans La peau. Claude Verdan Foundation, Lausanne, Switzerland
Martin Parr's Best Books of the Decade. Photo Ireland Festival, Dublin, Ireland
Art Fair Tokyo 2011. Tokyo International Forum, Tokyo, Japan
Nostlgia Korea-China-Japan Culture Shuttle 2011. Korea Foundation, Seoul, Korea
5 Women's eyes. msc gallery in Doshisha Women's College, Kyotanabe, Japan
Collection. The Art Institute of Chicago, Chicago, IL
2010
Art Fair Tokyo 2010. Tokyo International Forum, Tokyo, Japan
Collection 1. Yokohama Museum of Art, Yokohama, Japan
Pictures by Women/ A history of Modern Photography. Museum of Modern Art, New York, NY
ART OSAKA 2010. Doujima Hotel, Osaka, Japan
Miyako Ishiuchi and Ryoji Ikeda. Okawa Museum of Art, Kiryu, Japan
Skin. Wellcome Trust, London, England
126 Polaroid. Yokohama Museum of Art, Yokohama, Japan
Hommage, Suehiro Tanemura. Span Art Gallery, Tokyo, Japan
Collection/Mother's. The Museum of Modern Art, Gunma, Takasaki, Japan
The 14th Small Museum. Kamaboko Museum, Odawara, Japan
2009
Art Fair Tokyo 2009. Tokyo International Forum, Tokyo, Japan
Aging. Claude Verdan Foundation, Lausanne, Switzerland
Dark Side II- Photographic Power, Disease, and Death Photographed. Fotomuseum Winterthur, Winterthur, Switzerland
Tokyo Photo. Roppongi Bellesalle, Tokyo, Japan
Japan meets China/ Our Future reflected in Contemporary Art. Tochigi Prefectural Museum of Fine Arts, Utsunomiya, Japan
Dress Codes/ The Third ICP Triennial of Photography and Video. International Center Of Photography, New York, NY
Collection 3. Yokohama Museum of Art, Yokohama, Japan
2008
Art Fair Tokyo 2008. Tokyo International Forum, Tokyo, Japan
The Human Images in the Twentieth Century by the collection of The Tokushima Modern Art Museum. Gunma Museum of Art, Tatebayashi, Japan
Collection 1. The National Museum of Art, Osaka, Osaka, Japan
Collection 2. The National Museum of Art, Osaka, Osaka, Japan
The history of art and city -Paris, New York, Tokyo and Shanghai-. Sendai Mediatheque, Sendai, Japan
Collection 2. Yokohama Museum of Art, Yokohama, Japan
Between the Wall and the Ground. The National Museum of Modern Art, Tokyo, Tokyo, Japan
The Tokushima Collection Exhibition 2008. The Tokushima Modern Art Museum, Tokushima, Japan
PARIS PHOTO 2008. CARROUSEL DU LOUVRE, Paris, France
2007
Portraits de L'autre. Musee d'xelles, Brussels, Belgium
Vital Signs: Reality of 9 Contemporary Artists. Yokosuka Museum of Art, Yokosuka, Japan
The Body Sings of Life. Marugame Genichiro-Inokuma Museum of Contemporary Art, Marugame, Japan
The China International Gallery Exposition 2007. Exhibition hall China World Trade Centre, Beijing, China
Japan Contemporary Art Festival. Heiri Art Village, Seoul, Korea
The Sense of Collapse. The Museum of Modern Art, Tokyo, Tokyo, Japan
Beyond Language. Soka Art Center, Beijing, China; traveled to Soka Art Center, Taipei, Taiwan.
Collection-Showa Photography 1945-1989. Tokyo Metropolitan Museum of Photography, Tokyo, Japan
Japan Caught by Camera. Shanghai Museum, Shanghai, China
Exquisite Shadows. Sage Paris, Paris, France
Mother and Daughter. Art Sonje, Seoul, Korea
The 30th Anniversary: Collection of the National Museum of Art, Osaka. The National Museum of Art, Osaka, Osaka, Japan
2006
Case Study. Beyond the Valley, London, England
Sepia at Seven – A Celebration Group Show. Sepia International, New York, NY
Food and Contemporary Art Part2: Ishokudogen. BankART 1929 Yokohama; Bankart Market Oceans Bar Rose House, Yokohama, Japan
MOT Collection: Art since the 1960s. Museum of Contemporary Art, Tokyo, Japan
The Photographic Society in Japan's Awards Exhibition. Fuji Photo Salon, Tokyo, Japan
Berlin- Tokyo: Tokyo- Berlin. Neue National Galerie, Berlin, Germany
Case Study2. Plymouth Arts Centre, Plymouth, England
Mite!- Okayama. The Okayama Prefectural Museum of Art, Okayama, Japan
Hajime Sawatari, Miyako Ishiuchi, Yasuhide Kuge: Slide Show at Bookfes 2006. Aoyama Book Center, Tokyo, Japan
Modern Paradise. The National Museum of Modern Art, Tokyo, Tokyo, Japan
Family Scenes in Japanese Modern Art. The Museum of Modern Art, Ibaraki, Mito, Japan
Collection3. The National Museum of Art, Osaka
Beyond Lilith: The Sacred Feminine. Scuderie Aldobrandini of Comune di Frascati, Frascati, Itary
The Memory of Me: Nikon Salon 1968-2006 Special Exhibition. Nikon Plaza Ginza, Tokyo, Japan
From the Garden. The Third Gallery Aya, Osaka, Japan
Fukushima Contemporary Art Biennale 2006. Fukushima City Museum of Photography, Fukushima, Japan
Gift, The Store. Spiral, Tokyo, Japan
mas alla de lo ordinario/ extraordinario: fotografia japonesa contemporanea. Centro de La Imagen, Mexico City, Mexico
2005
Toshodaiji , Photography and Haiku Exhibition for Ganjinwajo and Rashanabutsu. Tokyo National Museum, Tokyo, Japan
The Tokushima Collection Exhibition 2005-I. The Tokushima Modern Art Museum, Tokushima, Japan
Old Age: Beauty and Form. Fukushima Museum, Fukushima, Japan
36 photographers of the Kimura Ihei Award. Kawasaki City Museum, Kawasaki, Japan
85/05 - 20 Years after the Tsukuba Museum of Photography. Sendai Mediatheque, Sendai, Japan
Video Installation by Bill Viola and Contemporary Works From the Museum Collection. The National Museum of Modern Art, Tokyo, Tokyo, Japan
Traces & Omens- the 12th Noorderlict Photo Festival. Der Aa-Kerk, Groningen, Netherlands
The Tokushima Collection Exhibition 2005-III. The Tokushima Modern Art Museum, Tokushima, Japan
Art Fair Tokyo. Tokyo International Forum, Tokyo, Japan
Take Art Collection. Spiral Garden, Tokyo, Japan
My Precious: Photos and Words Five Contemporary Japanese Photographers. Art Forum Azamino, Yokohama, Japan
2004
Landscape and Scalpel. Hachinohe City Museum of Art, Hachinohe, Japan
out of the ordinary/ extraordinary: Japanese Contemporary photography. Japanisches Kulturinstitut, Koln, Germany; traveled to other venues in Europe and U.S.A
Mask of Japan-Japanese Contemporary Photography. Guangdong Museum of Art, Guangzhou, China
Yokohama Shashinkan. BankART 1929, Yokohama, Japan
Meguro Art Annual 2004. Meguro Museum of Art, Tokyo, Japan
What's Art? An Invitation to 20th Century Art: The Collection of National Museum of Art, Osaka. The Okayama Prefectural Museum of Art, Okayama, Japan
2003
The History of Japanese Photography. Museum of Fine Arts, Houston, TX    
Freedom of Photography. Prinz, Kyoto, Japan
Beyond The Surface - Japanese Style of Making Things. Singapore Art Museum, Singapore; traveled to Cultural Center of Philippines, Manila, Philippines
Permanent Exhibition: Miyako Ishiuchi, Jun Shiraoka, Hiromi Kakimoto. The Third Gallery Aya, Osaka, Japan
Mask of Japan-Japanese Contemporary Photography. Aura Gallery, Shanghai, China
Collection 3: Miyako Ishiuchi and Osamu Kanemura. Yokohama Museum of Art, Yokohama, Japan
Freedom of Photography. Prinz, Kyoto, Japan
2002
Uncompleted Century Legacies of 20th Century Art. The National Museum of Modern Art, Tokyo, Tokyo, Japan
The Tokushima Collection Exhibition 2002-1. The Tokushima Modern Art Museum, Tokushima, Japan
The World of Polaroid Photography: Beyond Time. Polaroid Gallery, Tokyo, Japan; traveled to Sen Space, Osaka, Japan
Photoneshia: Memories of Light; Fruits of Time. Naha Civic Gallery, Naha, Japan
2001
Global Visions. Museum of Contemporary Art Tokyo, Tokyo, Japan
Moderns by The Sumida River. Museum of Contemporary Art, Tokyo, Tokyo, Japan
Off Triennale. Ryunichi Kanton Kaikan, Yokohama, Japan
2000
Vestiges. Sepia International, New York, NY
Main5. 03FOTOS, Tokyo, Japan
Art and Society: Earthquake. Taro Okamoto Museum of Art, Kawasaki, Japan
Japanese and Chinese Contemporary. Sanya Photography Gallery, Shanghai, China
1999
Rediscovery of Photography, From the Photography Collection of The National Museum of Modern Art, Tokyo. The National Museum of Modern Art, Tokyo, Tokyo, Japan
Skin Dive. Kyoto Art Festival, Kyoto, Japan
The Tracing Kimura Ihei Memorial Photography Award 1975-1999. Kawasaki City Museum, Kawasaki, Japan
Art in the Ruins. Yokohama Portside Gallery, Yokohama, Japan
Higashikawa International Photofestival Award Winning Works Exhibition. Higashikawa Bunka Gallery, Higashikawa, Japan
Premio Michelangelo Antonioni per le Arti 1999. Trevi Flash Art Museum, Trevi, Italy
Main. 03Fotos, Tokyo, Japan
Yokohama International Photography Festival'99. Yokohama Civic Art Gallery, Yokohama, Japan
1998
Main. 03FOTOS, Tokyo, Japan
Art in the Ruins. Gallery Yamaguchi, Tokyo, Japan  
21st Anniversary Zeit-Foto, Artspace Shimoda, organized by Zeit-Foto. Tokyo, Japan
Women Photographer's eyes 1945-1997: Tokyo Photography Month. Tokyo Metropolitan Museum of Photography, Tokyo, Japan
An Incomplete History: Women Photographers from Japan, 1864-1997. Visual Studies Workshop Gallery, Rochester; traveled to New York and other venues in U.S.A.
Art and the Environment: From an Ecological Point of View. The National Museum of Art, Osaka, Japan
Art in the Ruins. Tokyo Gallery, Tokyo, Japan
Art in the Ruins Annex. Gallery Te, Tokyo, Japan
1997
Flexible Coexistence: Mito Annual '97. Art Tower Mito, Mito, Japan
Lust und Leere Japanische Photographie der Gegenwart. Kunsthalle Wien, Wien, Austria; traveled to Arken Museum of Modern Art, Copenhagen, Denmark
Surface Exposed: Photography in the 90's Art. Museum of Contemporary Art , Tokyo, Tokyo, Japan
1997 B semi 30th Anniversary Week in Daikanyama. Hill Side Plaza, Tokyo, Japan
1996
Prospect '96. Schirin Kunstverein, Frankfurt, Germany
Main. 03FOTOS, Tokyo, Japan
Tracing Japanese Contemporary Photography through Kimura Ihei Memorial
Photography Award. Tokyo Metropolitan Museum of Photography, Tokyo, Japan; traveled to Kawaguchiko Museum of Art, Fujikawaguchiko, Japan
Cityscape Japan. Japanisches Kulturinstitut, Koln, Germany
Yokohama International Photo Festival '96. Yokohama Museum of Art, Yokohama, Japan
Contemporary Art From Galleries '96. Osaka Contemporary Art Center, Osaka, Japan
Contemporary Photography since the 1980s. Yokohama Museum of Art, Yokohama, Japan
Kimura Ihei Memorial Photography Award Exhibition-Japan Contemporary Photography. Kintetsu Art Kan, Osaka, Japan
Main. 03FOTOS, Tokyo, Japan
1995
Objects, Faces and Anti-Narratives-Rethinking Modernism. Tokyo Metropolitan Museum of Photography, Tokyo, Tokyo, Japan
Alter, Egodocument. Suzanne Biederberg Gallery, Amsterdam, Netherland   
20th Anniversary Kimura Ihei Prize. Ginza Canon Salon, Tokyo, Japan
Photography and The National Museum of Modern Art, Tokyo 1953-1995. The National Museum of Modern Art, Tokyo, Tokyo, Japan
Rituals and Transformation. The National Gallery of Canada, Ottawa, Canada
Contemporary Japanese Photography. Nihonbashi Mitsukoshi, Tokyo, Japan
Contemporary Japanese Photography. The Art Gallery of New South Wales, Sydney, Australia
1994
Japanese Art After 1945. Guggenheim Museum Soho, New York, NY; traveled to San Francisco Museum of Modern Art, San Francisco, CA
When The Body Becomes Art. Itabashi Art Museum, Tokyo, Japan
Inside Out: Contemporary Japanese Photography. The Light Factory Photo Arts Center, Charlotte, NC; traveled to The Kemper Museum of Contemporary Art; Kansas City Art Institute, Kansas City, MO
1993
Changing I: dense cities. Shedhalle, Zurich, Switzerland
Zeitgenossische Japanische Photographie. Kunsthaus, Zurich, Swtzerland
Light and Shadow. Fuji Photo Salon, Tokyo, Japan
1992
Symposion uber Fotografie13, So Oder So Nicht Sein. Forum Stadtpark, Graz, Austria  
Photography 1960-1980. Konica Plaza, Tokyo, Japan
1991
Exploring the Unknown Self: Self-Portrait of Contemporary Women. Tokyo Metropolitan Museum of Photography, Tokyo, Japan
Japanese Photography in The 1970s. Tokyo Metropolitan Museum of Photography, Tokyo, Japan
Make-Believe. The Photographers Gallery, London, England
1990
Women's Perspective in German and Japan. Kawasaki City Museum, Kawasaki, Japan
1989
The Hitachi Collection of Contemporary Japanese Photography. Center for Creative Photography, The university of Arizona, Tucson, AZ
1987
Japanese Women Photographers. Lehigh University Art Gallery, Bethlehem, PA.
1986
World of Super-Image. Yurakucho Seibu Art Forum, Tokyo, Japan
1985
Paris, New York, Tokyo. The Tsukuba Museum of Photography, Ibaraki, Japan; traveled to The Miyagi Museum of Art, Sendai, Japan
1984
Dumont'5: Die Japanische Fotographie. Museum Fur kunst und Gerwerbe, Hamburg, Germany
1980
Photo-Session'80. Konishiroku Gallery, Tokyo, Japan
1979
Nuzyun in Okinawa Yamato. Dainaha, Naha, Japan
Japan : A Self-Portrait. International Center of Photography, New York, NY; traveled to Venice, Italy
1977
Photography Today'77. Kanagawa Kenmin Gallery, Yokohama, Japan
1976
Hyakka-Ryo-Ran. Gallery Simizu, Tokyo Japan
Photographic Effect 5. Espouse Saturday, Tokyo, Japan
1975
Photographic Effect 3. Gallery Simizu, Tokyo, Japan
Publications
2021
Moving Away. Tokyo: Sokyusha
2019
The Story of Two Women: Miyako and Chihiro. Tokyo: Kyuryudo
2018
Beginnings 1975. Tokyo: Sokyusha
2017
Yokohama Gorakuso. Tokyo: Sokyusha
Grain and Image. Tokyo: Kyuryudo
2016
Childhood Garments. Tokyo: Sokyusha
Frida Love and Pain. Tokyo: Iwanami Shoten
About Photography.Tokyo: Chikuma Shobo
From Yokosuka. Tokyo: Super Labo
2015
Maddox, Amanda. Ishiuchi Miyako: Postwar Shadows. Los Angeles: L.Paul Getty Museum
Belongings. Tokyo: Case Publishing and FAPA
2014
From ひろしま. Tokyo: Kyuryudo
Here and Now: Atomic Bomb Artifacts, ひろしま/hiroshima 1945/2007-. New York: PPP Editions
Ishiuchi, Miyako Hasselblad Award2014. Berlin: Kehrer
2013
sa・bo・ten. Hiroshima: DAIWA PRESS
Frida by Ishiuchi. Barcelona: RM
2012
From Cocoons. Kyoto: Seigensha
2010
Sweet Home Yokosuka 1976-1980. New York: PPP Editions
Tokyo Bay Blues. Tokyo: Sokyusha
2009
Infinity∞. Tokyo: Kyuryudo
2008
Hiroshima. Tokyo: Shueisha
Ishiuchi, Miyako and Botman, Machiel. Miyako Ishiuchi Photographs 1976-2005. Amsterdam: Manfred Heiting/Cinubia Production
One Days. Tokyo: Rat Hole Gallery
2007
Club & Courts Yokosuka Yokohama. Tokyo: Sokyusha
Innocence. Kyoto: AKAAKA Art Publishing, Inc.
2006
mother's 2000-2005 traces of the Future. Kyoto: Tankosha
2005
Scars. Tokyo: Sokyusha
Kizuato. Osaka: Nihon Bunkyo Shuppan
Yomogida, Katsuyuki and Ishiuchi, Miyako.Le Parfum de la Rose. Tokyo: Kyuryudo
2002
Mother's. Tokyo: Sokyusha
2001
Endless Night 2001. Tokyo: Wides Shuppan
2000
Nail. Tokyo: Heibonsha
1998
Yokosuka Again. Tokyo: Sokyusha
1996 - 2000
Ishiuchi, Miyako and Narahashi, Asako. Foto Magazine "main".
1995
Ito, Hiromi and Ishiuchi, Miyako. Hiromi: 1955. Tokyo: Chikuma Shobo
Chromosome XY. Tokyo: Shinchosha
1994
1906 to the skin. Tokyo: Kawade Shobo Shinsha Publishers
1993
Monochrome. Tokyo: Chikuma Shobo
1990
1・9・4・7. Tokyo: Inter Press Corporation
1981
Endless Night. Tokyo: Asahi Sonorama
Tokyo Dental College. Tokyo: Issei Shuppan
1979
Yokosuka Story. Tokyo: Shashin Tsushinsha
1978
Apartment. Tokyo: Shashin Tsushinsha
Public Collections
Center for Creative Photography, The University of Arizona, Tucson, AZ
Higashikawa Photo Fiesta, Higashikawa, Japan
The Japan Foundation
Kawasaki City Museum, Kawasaki, Japan
Kunsthaus, Zurich, Switzerland
Los Angeles County Museum of Art, Los Angeles, CA
Museum of Contemporary Art, Tokyo, Tokyo, Japan
National Gallery of Canada, Ottawa, Canada
The Museum of Fine Arts, Houston, Houston, TX
The Museum of Modern Art, New York, NY
The Metropolitan Museum of Art, New York, NY
The National Museum of Art, Osaka, Osaka, Japan
The National Museum of Modern Art, Tokyo, Tokyo, Japan
San Francisco Museum of Modern Art, San Francisco, CA
The Tokushima Modern Art Museum, Tokushima, Japan
Tokyo Photographic Art Museum, Tokyo, Japan
Yokohama Museum of Art, Yokohama, Japan
Maison Européenne de la Photographie, Paris, France
International Center of Photography, New York, NY
Tochigi Prefectural Museum of Fine Arts, Utsunomiya, Japan
Okawa Musuem of Art, Kiryu, Japan
Okinawa Prefectural Museum & Art Museum, Naha, Japan
Sakima Art Museum, Ginowan, Japan
The Art Institute of Chicago, Chicago, IL
The J. Paul Getty Museum, Los Angeles, CA
Tate Modern, London, England
MAST, Bologna, Italy
National Gallery of Art, Washington, D.C.
Arts Maebashi, Maebashi, Japan
Nelson-Atkins Museum, Kansas City, MO
MKG, Hamburg, Germany
Hasselblad Foundation, Gothenburg, Sweden
Le Bal, Paris, France
New York Public Library, New York, NY
Hirshhorn Museum and Sculpture Garden, Washington, DC
Chengdu Contemporary Image Museum, Shisen, China
Snite Museum of Art, University of Notre Dame, Notre Dame, IN
Contemporary Art Museum, Kumamoto, Kumamoto, Japan
Bombas Gens Centre d'Art, Valencia, Spain
Chihiro Art Museum, Azumino and Tokyo, Japan
Fujifilm Corporation, Tokyo, Japan