metamorphoses
Okanoue Toshiko
2008.1.29 Tue- 2.23 Sat
12:00-19:00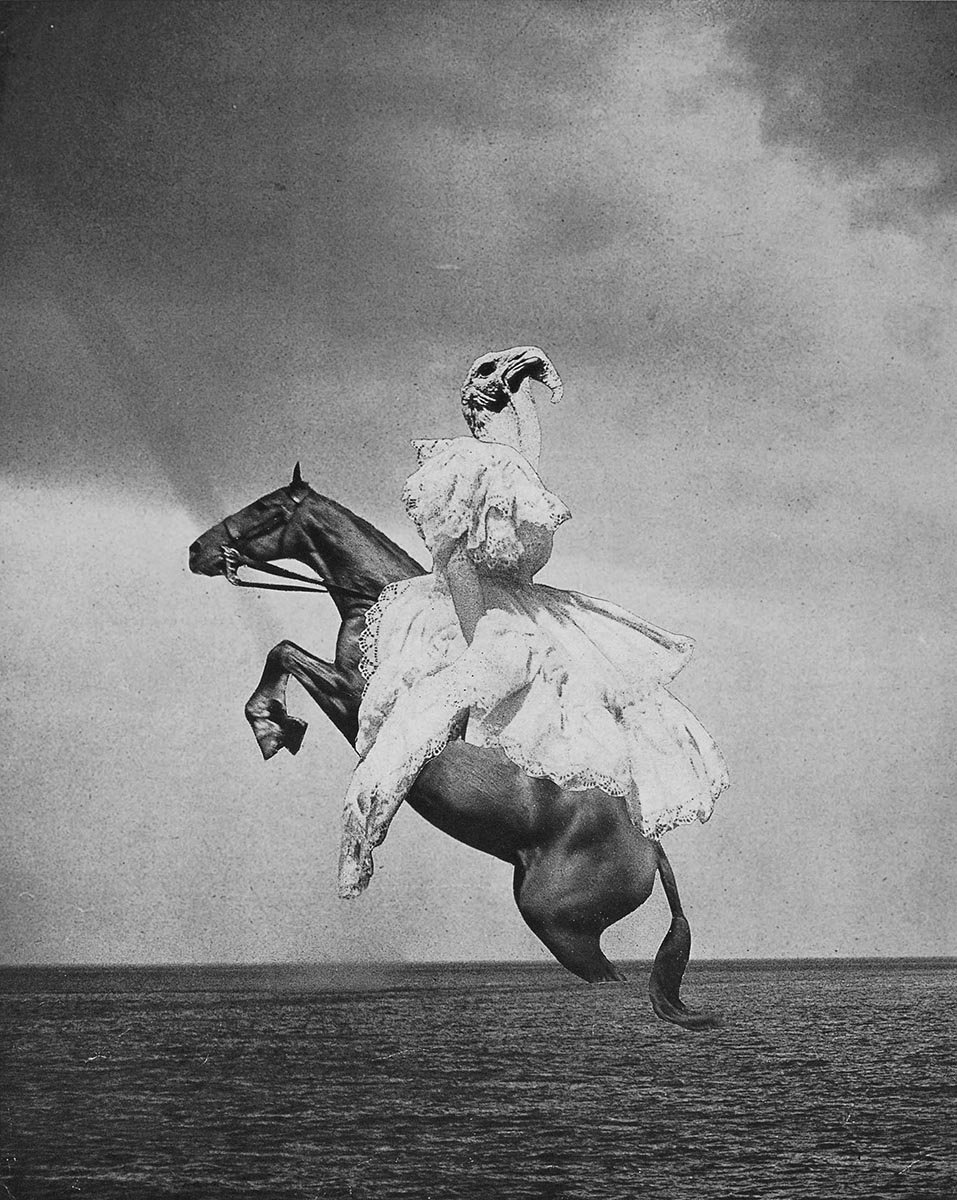 We would like to present the photo collages, screen prints and prints by Toshiko Okanoue as an first exhibition this year.
A portfolio and photo book based the photo collages, made in the 1950's, has also been printed.
The portfolio consists of 5 pieces and the photo book consists of one set of 12 pieces.
We are pleased to show each work by different medium in the same space and hope visitors will enjoy the special character of each medium.
Okanoue Toshiko
Outline
| | |
| --- | --- |
| 1928 | Born in Kochi Prefecture |
| 1945 | Graduates from Toyo Eiwa Jogakuin |
| 1948 | Graduates from Keisen High School |
| 1949 | Graduates from Ogawa Fashion Insititute |
| 1952 | Graduates from Design Department of Bunka Gakuin College |
Solo Exhibitions
2021
The Call. The Third Gallery Aya, Osaka, Japan
A New Season. Isetan Salone Art Wall, Tokyo, Japan

2019
Toshiko Okanoue, Photo Collage: The Miracle of Silence. Tokyo Metropolitan Teien Art Museum, Tokyo, Japan
Okanoue Toshiko, Photo Collages-A Long Journey. Books f3, Niigata, Japan
Okanoue Toshiko. Keibunsha Ichijoji, Kyoto, Japan
2018
Okanoue Toshiko Retrospective Exhibition-A Long Journey. The Museum of Art, Kochi, Kochi, Japan
2015
A Long Journey. Librairie6, Tokyo, Japan
A Long Journey. The Third Gallery Aya, Osaka, Japan
2014
A Long Journey. Kitahama gallery Maru R, Takamatsu, Japan
A Long Journey. Rokujigen, Tokyo, Japan
2010
Visit in Night. Librairie6, Tokyo, Japan
Toshiko Okanoue: Drop of Dreams. Charles A.Hartman Fine Art, Portland, OR
2008
Metamorphoses. The Third Gallery Aya, Osaka, Japan
2002
Droplets of Dreams. The Third Gallery Aya, Osaka, Japan
Okanoue Toshiko: Collages. The Museum of Fine Arts, Houston, Houston, TX
2000
Okanoue Toshiko Photo-Collage: Droplets of Dreams curated by Ryuichi Kaneko. The Dai-ichi Mutual Life Insurance, Co. South Gallery, Tokyo, Japan
1956
Okanoue Toshiko Collage Exhibition. Gallery Takemiya, Tokyo, Japan
1953
Okanoue Toshiko Collage Exhibition. Gallery Takemiya, Tokyo, Japan
Group Exhibitions
2022
MOMAT Collection. The National Museum of Modern Art, Tokyo, Tokyo, Japan
Fujino Kazutomo and Okanoue Toshiko. Fukuoka City Museum, Fukuoka, Japan
2021
Surrealism Beyond Borders. The Metropolitan Museum of Art, New York, NY; traveled to Tate Modern, London, England
The New Woman Behind The Camera. The Metropolitan Museum of Art, New York, NY; traveled to The National Gallery of Art, Washington D.C.
YAMAZAWA Eiko,OKANOUE Toshiko, ISHIUCHI Miyako 2021. The Third Gallery Aya, Osaka, Japan; traveled to Capsule, Tokyo, Japan
MOMAT Collection. The National Museum of Modern Art, Tokyo, Tokyo, Japan
2019
9-year Exhibition Librairie 6. Librairie 6, Tokyo, Japan
A Pleasure of Collecting Art. Art House Oyabe, Oyabe, Japan
Surrealist Painting-Influence and lterations in Japan. Pola Museum of Art, Hakone, Japan
2018
A Beautiful Moment. Huis Marseille, Amsterdam, Netherland
2017
Japanese Surrealist Photography. Taka Ishii Gallery, Tokyo, Japan
Nihombashi Art Photo Exhibition 2017-The world of Fine Art Photography. Nihonbashi Mitsukoshi, Tokyo, Japan
2015
Exhibition from permanent collection of the Museum of Art, Kochi Part Ⅰ. The Museum of Art, Kochi, Kochi, Japan
taguchi fine art + The Third Gallery Aya in Nakanoshima hosted by Kumi Okumura. Nakanoshima Banks de sign de, Osaka, Japan
70th Anniversary of the End of WWII: Alternative Stories in 1940's Art-From the Tragic War to Reconstruction and Rebirth What did Japanese Artists' Works During that Priod Represent ?. Tochigi Prefectural Museum of Fine Arts, Utsunomiya, Japan
2013
Jeux Surréalisme. The Tokushima Modern Art Museum, Tokushima, Japan; traveled to Seiji Togo Memorial Sompo Japan Museum of Art, Tokyo, Japan
Alison Goldfrapp: Performer as Curator. The Lowry, Manchester, England
Art of Kochi-A La Carte-Six Themes. The Museum of Art, Kochi
2012
Utopia/ Dystopia : Construction and Destruction in Photography and Collage. The Museum of Fine Art, Houston, Houston, TX
Creating with Light-The Manipulated Photograph. Tokyo Metropolitan Museum of Photography, Tokyo, Japan
Amateurisum. Heidelberger Kunstverein, Heidelberg, Germany
Tokyo 1955-1970:A New Avant-Garde. The Museum of Modern Art, New York, NY
2011
Femmes Surréalistes. Librairie6, Tokyo, Japan
Surrealism and Collages from the collection. The Museum of Art, Kochi, Kochi, Japan
2010
Pictures by Women/ A History of Modern Photography. The Museum of Modern Art, New York, NY
2009
Collage-Creation by Severance and Reconstruction. The National Museum of Modern Art, Tokyo, Tokyo, Japan
2008
Surrealism and Photography- BEAUTY CONVULSED. Tokyo Metropolitan Museum of Photography, Tokyo, Japan
2006
Modern Japanese Art from the Museum Collection. The National Museum of Modern Art, Tokyo, Tokyo, Japan
Curator's Choice. Tokyo Metropolitan Museum of Photography, Tokyo, Japan
Collage and Photomontage. Tokyo Metropolitan Museum of Photography, Tokyo, Japan
2005
Drifting Objects of Dreams: The Collection of Shuzo Takiguchi. Setagaya Art Museum, Tokyo, Japan; traveled to The Museum of Modern Art, Toyama, Toyama, Japan
Shuzo Takiguchi and Gallery Takemiya organized by Satani Gallery. Ochanomizu Gallery, Tokyo, Japan
2004
Collection. The Museum of Art, Kochi, Kochi, Japan
2003
The History of Japanese Photography. The Museum of Fine Arts, Houston, Houston, TX
2001
Japanese Women Artists before and after World WarⅡ 1930s-1950s. Tochigi Prefectural Museum of Fine Arts, Utsunomiya, Japan
1996
Shedding Light on Art in Japan 1953. Meguro Museum of Art, Tokyo, Japan
1953
Abstraction and Surrealism: How to Understand Them?. The National Museum of Modern Art, Tokyo, Tokyo, Japan
Art Fair
2017
Art in Park Hotel Tokyo 2017. Park Hotel Tokyo, Tokyo, Japan
2016
Art Osaka 2016. Hotel Granvia Osaka, Osaka, Japan
Art in Park Hotel Tokyo 2016. Park Hotel Tokyo, Tokyo, Japan
2015
Art Osaka 2015. Hotel Granvia Osaka, Osaka, Japan
2014
Art Fair Tokyo 2014. Tokyo International Forum, Tokyo, Japan
Art Osaka 2014. Hotel Granvia Osaka, Osaka, Japan
Hillside Terrace Photo Fair. Daikanyama Hillside Forum, Tokyo, Japan
2013
Art Fair Tokyo 2013. Tokyo International Forum, Tokyo, Japan
Art Osaka 2013. Hotel Granvia Osaka, Osaka, Japan
2012
Art Fair Tokyo 2012. Tokyo International Forum, Tokyo, Japan
Art Osaka 2012. Hotel Granvia Osaka, Osaka, Japan
Paris Photo 2012. Grand Palais, Paris, France
2011
Art Fair Tokyo 2011. Tokyo International Forum, Tokyo, Japan
2010
Art Fair Tokyo 2010. Tokyo International Forum, Tokyo, Japan
2009
Art Fair Tokyo 2009. Tokyo International Forum, Tokyo, Japan
2008
Art Fair Tokyo 2008. Tokyo International Forum, Tokyo, Japan
Paris Photo. Carrousel Du Louvre, Paris, France
2007
Photo Miami. Wynwood Arts District, Miami, FL
Publication
2022
The World of Okanoue Toshiko and Fujino Kazutomo. Tokyo: Kawade Shobo Shinsha
2020
A Long Journey New Edition. Tokyo: Kawade Shobo Shinsha
2019
The Miracle of Silence. Kyoto: Seigensha
A Beautiful Moment. Tokyo: Kawade Shobo Shinsha
2018
Okanoue Toshiko Complete works Okanoue Toshiko Special Edition. Tokyo: Kawade Shobo Shinsha
2015
A Long Journey. Tokyo: Kawade Shobo Shinsha
2007
The Miracle of Silence. Paso Robles: Nazraeli Press
2002
Drop Of Dreams. Paso Robles: Nazraeli Press
Public Collections
The National Museum of Modern Art, Tokyo, Tokyo, Japan
Tokyo Photographic Art Museum, Tokyo, Japan
Tochigi Prefectural Museum of Fine Arts, Utsunomiya, Japan
The Museum of Art, Kochi, Kochi, Japan
The Museum of Fine Arts, Houston, Houston, TX
The Museum of Modern Art, New York, New York, NY
M+, Hong Kong
Freer Gallery of Art Arthur M. Sackler Gallery, the Smithsonian's National Museum of Asian Art, Washington, DC
National Gallery of Art, Washington, DC