Moving Plants
WATANABE Koichi
December 15(tue), 2015 - January 23(sat), 2016
Closed on December 27 - January 1
12:00-19:00/Tue-Fri 12:00-17:00/Sat Closed on Sun and Mon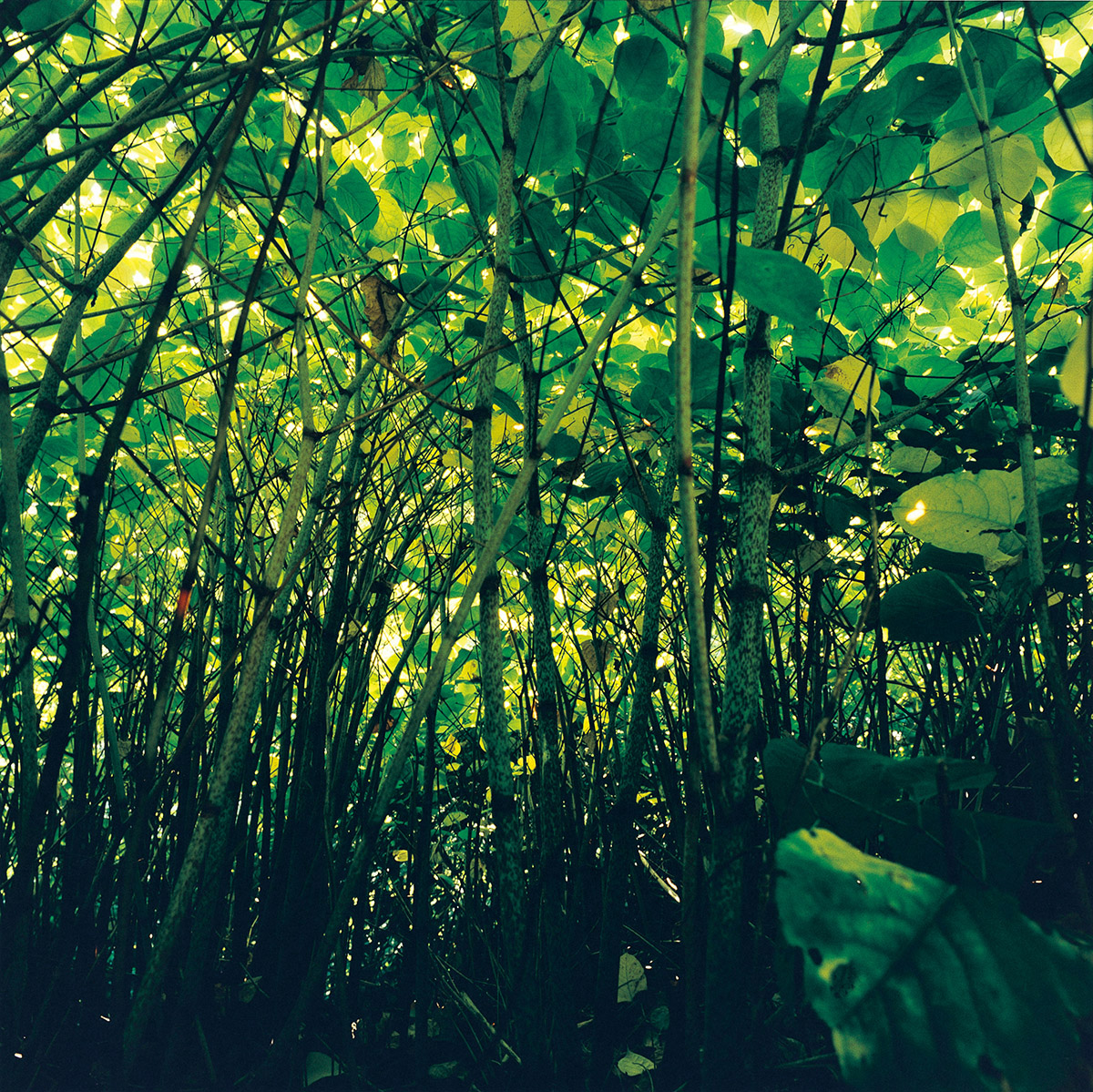 The Third Gallery Aya is pleased to announce a solo show by Watanabe Koichi titled Moving Plants, which runs from December 15th to January 23rd. Seigensha Art Publishing will release Watanabe's new book on how he has pursued a plant called itadori (known as Japanese knotweed in English) for some 10 years. This exhibition is designed to commemorate the publication of this book.
Watanabe was first inspired to photograph itadori (or sukanpo) after he came across the plant in Hokkaido. The weed, which has quickly propagated and destroyed the ecosystem in Europe and America due to its strong life force, was brought to Europe from Japan by Philipp Franz von Siebold, a German doctor, for use in gardens. After hearing about the proliferation of the plant, Watanabe embarked on a journey to see it with his own eyes.
"The view of history we see through Japanese Knotweed and Watanabe's travels is filled with complications and sarcasm. Dr. Siebold, a symbol of friendly relations between Japan and Holland, was the origin of this invasive foreign plant. Japanese Knotweed is now synonymous with incisive plants that are feared in Europe and America and is a target of extermination. We embark on a trip with Watanabe, but soon we are lost in a maze of human activities and capital. Moving this huge bush to another place influenced many things and became closely intertwined with nature, knowledge, technology, and industry. This has become clear in recent years."––Minato Chihiro (excerpted from the photo book)
Watanabe has traveled to the UK, Poland, Holland, and America in search of the plant, and his photographs provide us with many surprises and discoveries. Although it might seem as if plants have remained in a given place for a long time, this is not necessarily true. We are sensitive to "exotic plants" and "exotic animals," but largely indifferent to "invasive" ones. This perhaps explains the title Moving Plants, despite the fact that plants cannot actually move by themselves.
In the shadows of itadori, we can recognize a modern system, in which things and information are intricately circulated through people. This unique photo book captures the dynamic movement of plants in connection with the artist's own text, which makes up about a quarter of the book. We hope you will join us for this exhibition and also have an opportunity to look at the photo book.
Watanabe Koichi
Outline
| | |
| --- | --- |
| 1967 | Born in Osaka |
| 1986-1990 | Graduated from the department of literature, psychology course Osaka City University |
| 1999-2000 | Graduated from photography course of Inter Medium Institute, Osaka |
Awards
| | |
| --- | --- |
| 2023 | The 23th Sagamihara Photo Award |
Solo Exhibitions
2023
The 23th Photo City Sagamihara Exhibition. Sagamihara cibic gallery, Sagamihara, Japan
2022
Contrayerba in dreaming – detox plants-history. The Third Gallery Aya, Osaka, Japan
Contrayerba in dreaming – detox plants-history. Kanzan Gallery, Tokyo, Japan
2018
Moving Plants. SHISEIDO GALLERY, Tokyo, Japan
2017
Moving Plants. GALLERY 722, Okayama, Japan
2016
Moving Plants. KanZan Gallery, Tokyo, Japan
2015
Moving Plants. The Third Gallery Aya, Osaka, Japan
2010
Moving Plants. The Third Gallery Aya, Osaka, Japan
2008
Moving Plants – in the thick of itadori. The Third Gallery Aya, Osaka, Japan
2005
The name of grassland -unknown islands where itadori grows. The Third Gallery Aya, Osaka, Japan
2003
grassland. The Third Gallery Aya, Osaka, Japan
Group Exhibitions
2021
ART OSAKA 2021. Osaka City Central Public Hall, Osaka, Japan
2018
daikanyama photo fair 2018. Daikanyama Hilside Forum; Hillside Plaza, Tokyo, Japan
ART in PARK HOTEL TOKYO 2018. Park Hotel Tokyo, Tokyo, Japan
2017
Moving Plants. RØNNEBÆKSHOLM, Næstved, Denmark
2015
ART OSAKA 2015. HOTEL GRANVIA OSAKA, Osaka, Japan
2012
Quiet Boyes. MIO PHOTO OSAKA, Osaka, Japan
2010
Art Fair Tokyo 2010. Tokyo International Forum, Tokyo, Japan
2008
Comical & Cynical. Gallery Jijihyang, Paju, Korea
2000
Comical & Cynical. Dawn Center, Osaka, Japan
2000
From the Garden. The Third Gallery Aya, Osaka, Japan
2000
phantome. SUMISO, Osaka, Japan
Publications
| | |
| --- | --- |
| 2022 | Contrayerba in dreaming – detox plants-history. Kyoto: Seigensha |
| 2015 | Moving Plants. Kyoto: Seigensha |