sense perception
Takashi Suzuki, Katrin Paul, SZ
2010.1.25.Mon- 2.13.Sat
12:00-19:00/Tue-Fri 12:00-17:00/Sat closed on Sun and Mon (The gallery will be opened on 25th)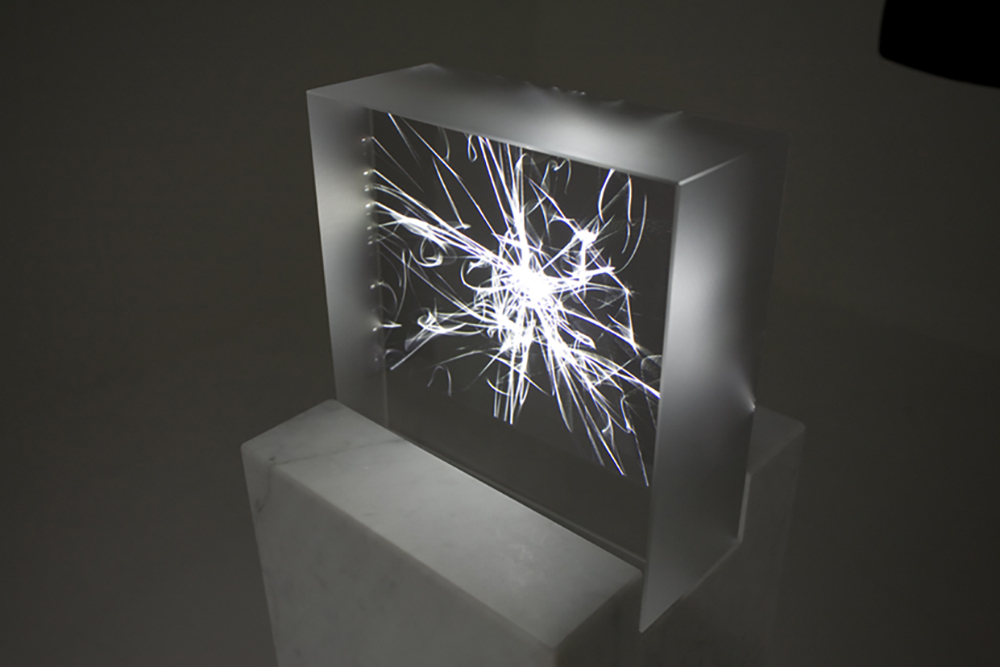 We are pleased to present a group exhibition featuring Takashi Suzuki, Katrin Paul and SZ as our first exhibition of 2010.
Along with Takashi Suzuki, who is represented by The Third Gallery Aya, we will present Katrin Paul and SZ as special guests.
Titled "sense perception", the exhibition consists of a variety of works, which function interactively.
We will have an opening reception on 25th, 18:00-20:00. Please join us.
Takashi Suzuki will show his series named "ARCA".
The artist, Suzuki Takashi, continues to reconstruct the frame work of "seeing".
He photographed the shadow as a object.
At a glance, the visitor can find the indistinct line of the object, but actually he captures the shadow of the object by focusing it on a plain.
"Shadows" exist as themselves by the light. If you separate the shadow from the object, what would it be like?
We hope your idea of "seeing", which we are usually unconscious of,will be changed by his works.
——————
Katrin Paul "hirobamba 2008" Artist Statement
While driving the car late one evening, within a blink of an eye we where stuck in the middle of a snowstorm. Or what seemed like it. What on earth happened? Was this snow at the end of summer, creatures from the outside, or just ordinary white insects, attracted by the light of the car, thousands of Shirobamba that floated around?
Their own inherent mystic light gave this encounter an almost spiritual quality. A moment of deep contemplation is captured here.
—————–
SZ "virtual / actual [pneuma]"
SZ will show the media art project by Biofeedback.
According to Wikipedia,"Biofeedback" is a non-medical process that involves measuring a subject's specific and quantifiable bodily functions such as the activity of brain waves,[blood pressure]], heart rate, skin temperature, sweat gland activity, and muscle tension, conveying the information to the patient in real-time. This raises the patient's awareness and therefore the possibility of conscious control of those functions.
"virtual/actual [pneuma]" is a media art project based on the theme of potential diversity of life which is connected with human being and nature.
The group's 2008 project used a biofeedback system to analyzed and surveyed visitors' brain wave and converted this data into visual imagery.
This project, called "pneuma", uses a visitor's breath to create similar works.
SZ consists of members as Masayuki Towata, Koichi Mori, Takahisa Mashita and Tsuyoshi Maeda.