THE IRRITATED MIND OF PLANTS
IWATANI Yukiko
Saturday, June 5, 2021–Saturday, June 26, 2021
12:00–19:00(Wednesday – Friday), 12:00–17:00(Saturday)
By appointment only on Tuesday.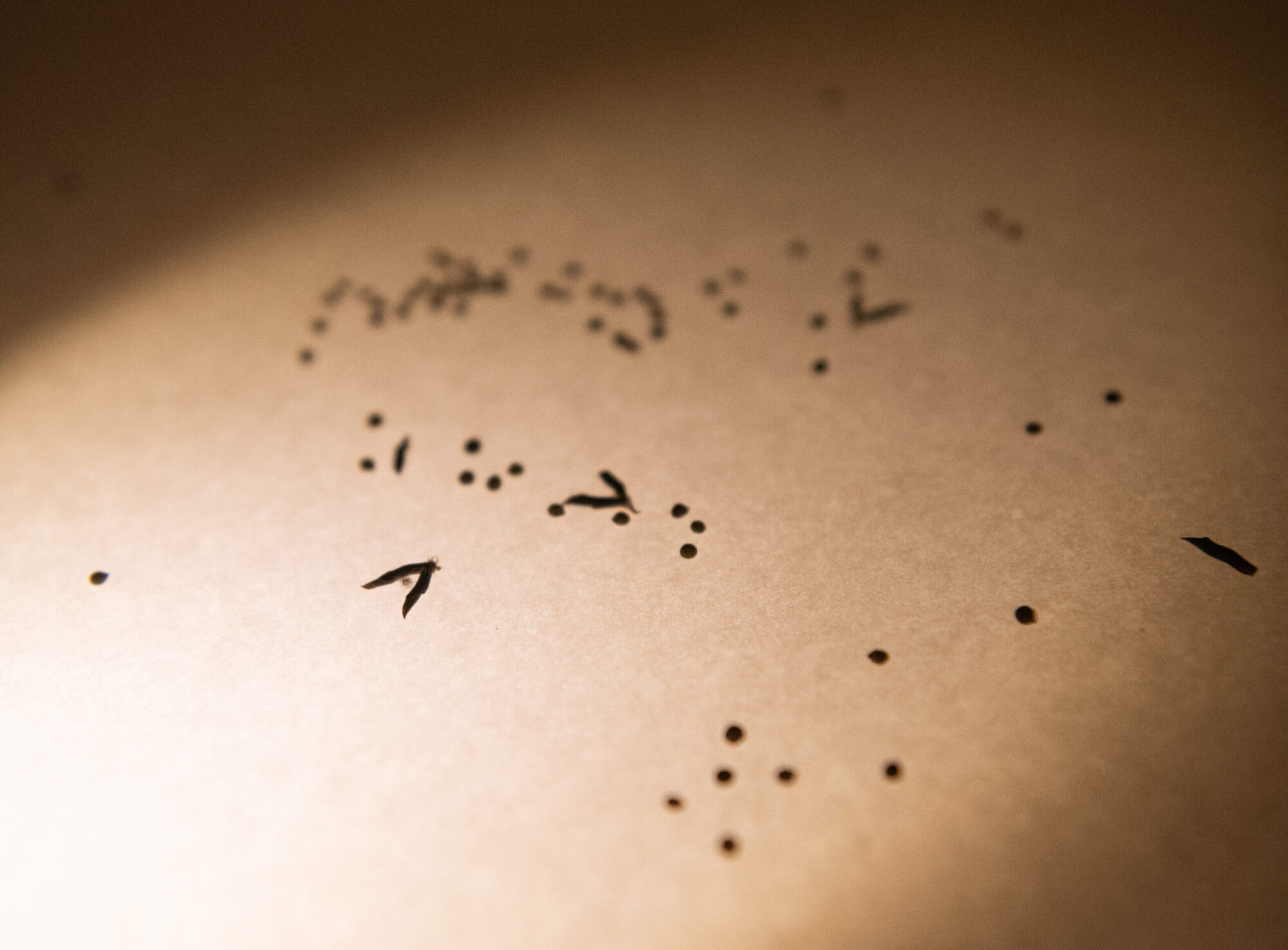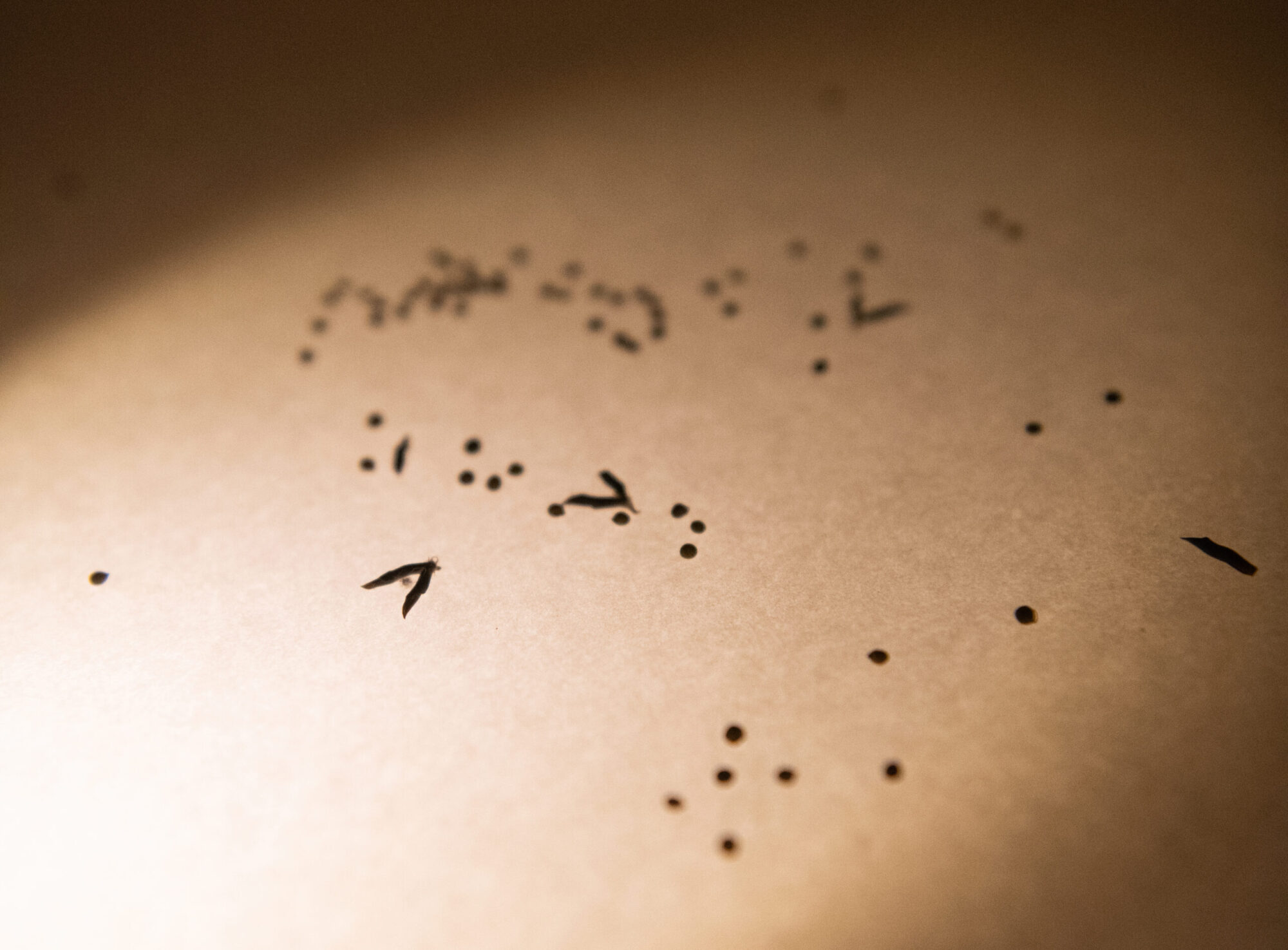 We are pleased to announce a solo exhibition, The Irritated Mind of Plants, by Iwatani Yukiko, to be held from June 5 to June 26, 2021.
Iwatani's practice involves making objects and installations using plants gathered in the vicinity of exhibition venues. These convey to visitors the vital energy of the many lifeforms surrounding us.
For the current exhibition, she converts messages from plants, gathered during the state of emergency declared in response to the COVID-19 pandemic, into Morse code, and has created an installation in the gallery using seeds that move in reaction to the sounds.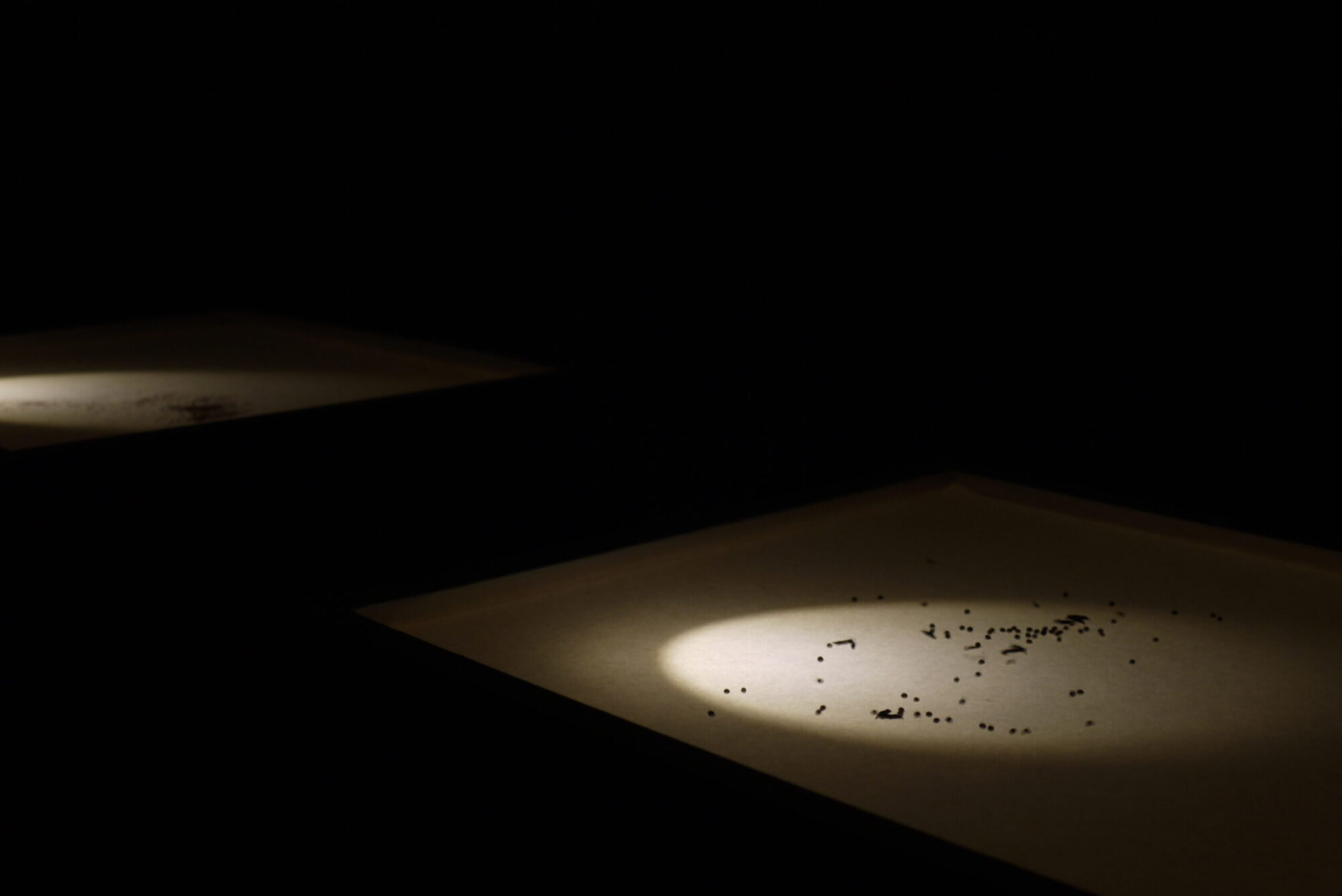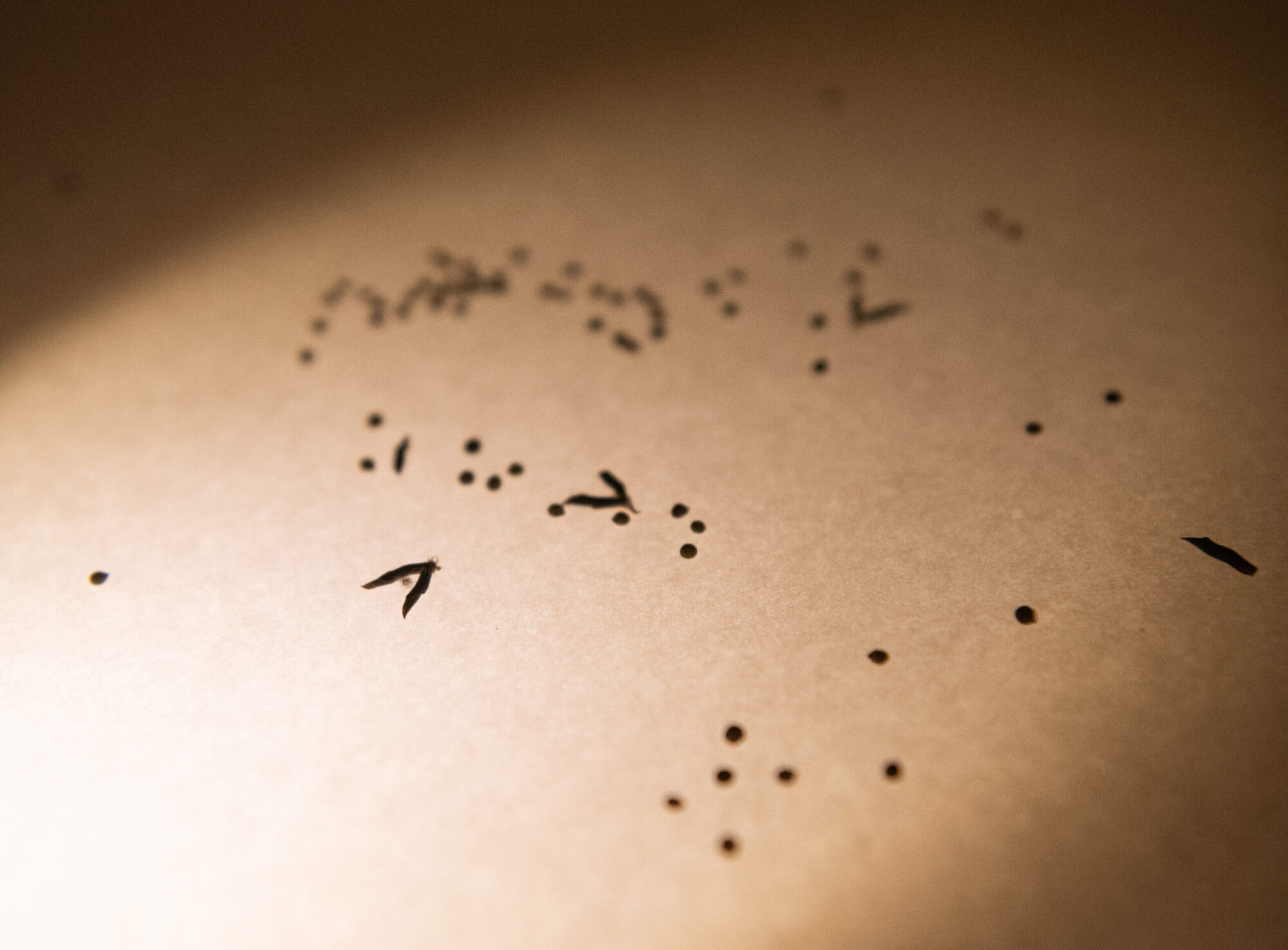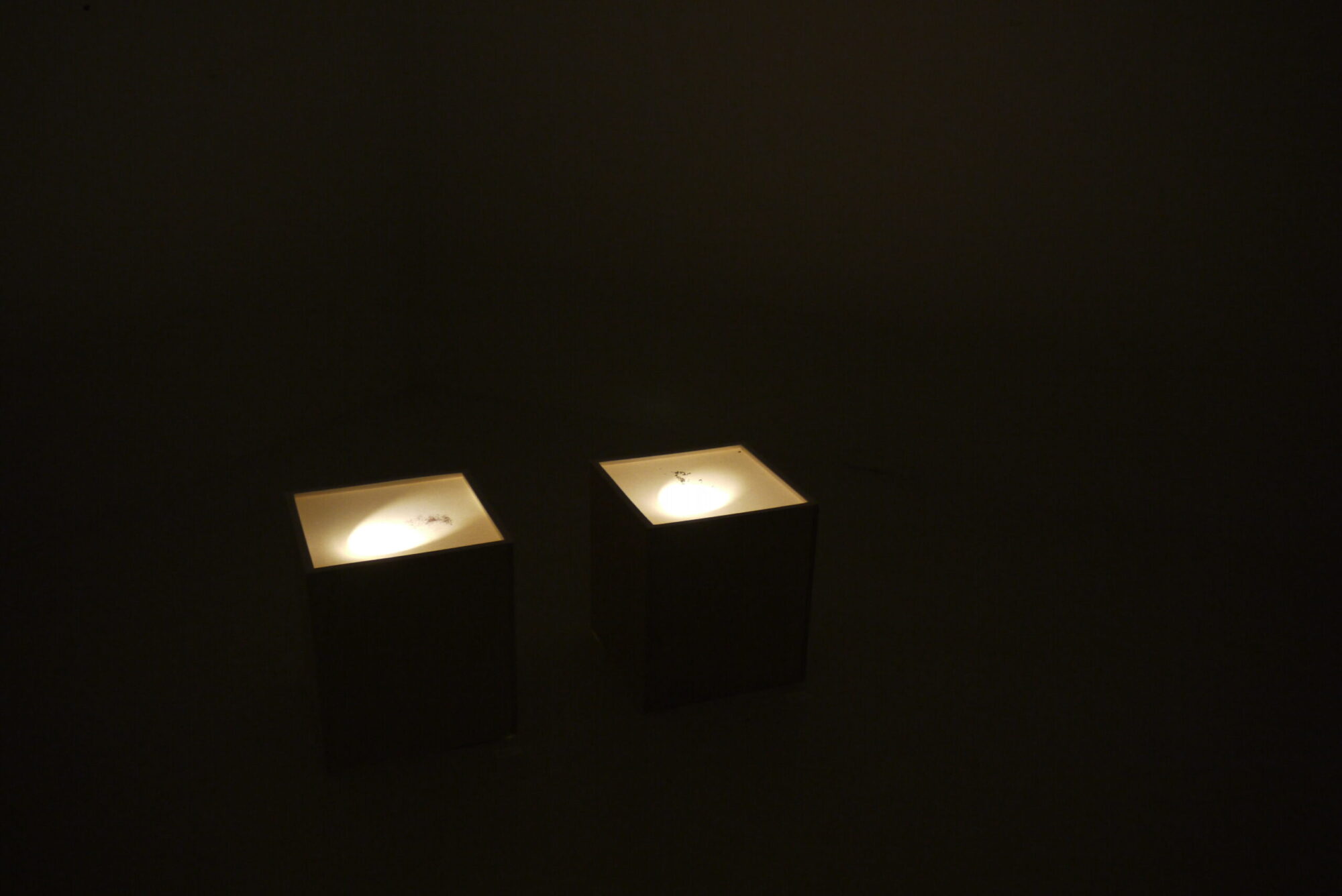 THE IRRITATED MIND OF PLANTS 2021 

Iwatani Yukiko
Outline
1958
Born in Sapporo, Japan 
1981
B.F.A., in Japanese Painting of Musashino Art University
2019
Rokko Meets Art 2019 Grand Prix
Lives in Kochi, Japan
Solo Exhibition
2021
THE IRRITATED MIND OF PLANTS. The Third Gallery Aya, Osaka, Japan
2018
The Irritated Mind of Plants. Gallery E, Kochi, Japan
2017
 Whispers of Sleepless Plants. The Third Gallery Aya, Osaka, Japan
2016
From Echigotsumari
2014
The Melancholy of the Ravenwort. Hasu no hana, Tokyo, Japan
Plants. 10cm, Matsumoto, Japan
2013
Iwatani Yukiko Solo Exhibition. Gallery Jin, Tokyo, Japan

2012
Iwatani Yukiko Solo Exhibition. gallery yamahon, Iga, Japan
2011
Iwatani Yukiko Solo Exhibition. POLARIS The Art Stage, Kamakura, Japan
2010
Iwatani Yukiko Solo Exhibition. Hako / 2, Osaka , Japan
2009
Iwatani Yukiko Solo Exhibition. Kobo, Tokyo, Japan
2007
Iwatani Yukiko Solo Exhibition. graffiti, Kochi, Japan
2004
Iwatani Yukiko Solo Exhibition. jurgenlehl, Fukuoka , Japan
2003
What is connected. Space Kobo & Tomo, Tokyo, Japan
1995
Iwatani Yukiko. FAUST GALLEY, Kochi, Japan
Group Exhibition
2023
Yurakucho Window Gallery 2023 Allbirds x Iwatani Yukiko. Tokyo, Japan
2022
Mind Trail. Yoshino Area, Tenkawa Area and Soni Area in Nara
Hanarart 2022. Tenri Area, Nara, Japan
2021
Rokko Meets Art 2021. Rokko Cable Car and other venues, Kobe, Japan
2020
Plants can move. Makino Memorial Garden & Museum, Kochi, Japan
2019
Guide West. Capsule, Tokyo, Japan
Rokko Meets Art 2019. Rokko Arima Rope Way and other venues, Kobe, Japan
2018
ART in Park Hotel Tokyo. Park Hotel Tokyo, Tokyo, Japan
Art Osaka. Hotel Granvia, Osaka, Japan
Cosmic Dance. Biwako Biennale, Omihachiman, Japan
2017
Art of Living. gallery momogusa, Tajima, Japan
Moving Plants. Rønnebæksholm, Næstved, Denmark

2016
Happy frontier. 10cm, Matsumoto, Japan
Insect ☆ plant. The Kochi Prefectural Makino Botanical Garden, Kochi, Japan

2015
gallery's eye. Kaikai Kiki Gallery, Tokyo, Japan
Universes in Universe –Echigo–. Echigo-Tsumari Art Triennale 2015, Tokaichi, Japan

2014
Artist program in Megijima. Setouchi Craft Festival 2014, Takamatsu, Japan
Yukiko Iwatani and SeizoTashima Exhibition. Ehontokinomi-museum, Tokaichi, Japan
2010
Winter  Session 2010. Gallery Jin, Tokyo, Japan
2007
Stone's house. Jurgenlehl, Tokyo , Japan
Botanical room. The Kochi Prefectural Makino Botanical Garden, Kochi, Japan

2006
Winter Momogusa-ten from Kochi. galerie momogusa, Tajimi, Japan

2003
Jin Winter Session 2003. Gallery Jin, Tokyo, Japan
2001
Kaki Tree Project in Kochi. The Museum of Art, Kochi, Kochi, Japan
2000
NO  BORDER. The Museum of Art, Kochi, Kochi, Japan
1995
In Our Hands International competition. Nagoya Trade & Industry Center, Nagoya, Japan