the Second
GOCHO Shigeo
2013 12.3 (Tue) - 28(Sat)
12:00-19:00/Tue-Fri 12:00-17:00/Sat closed on Sun and Mon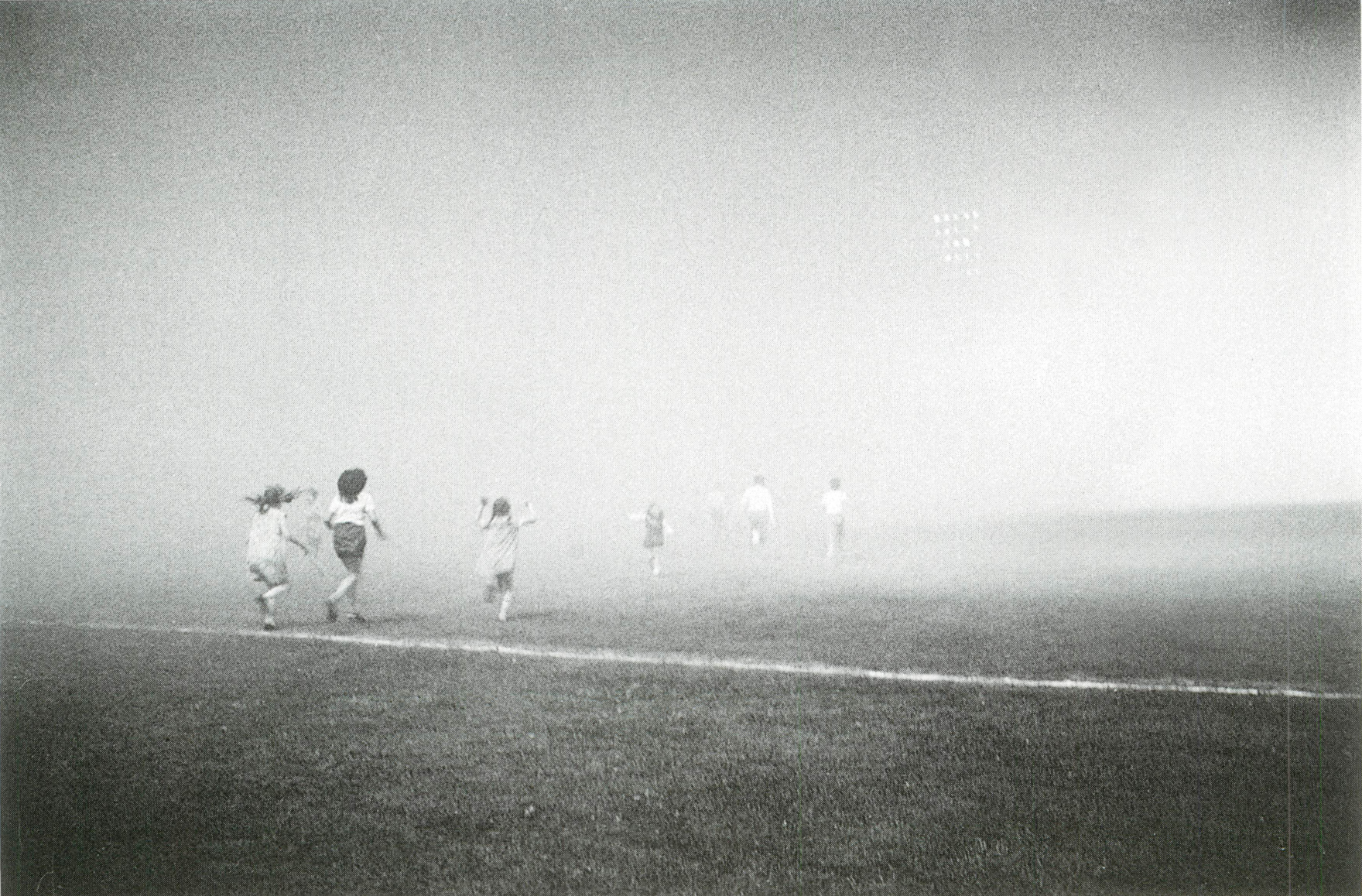 The Third Gallery Aya is pleased to announce a solo show titled "the Second" by Gocho Shigeo.
It is the first exhibition of Gocho's works at our gallery in 12 years.The first exhibition titled "Self and Others" was held at our gallery in 2001 in conjunction with his documentary film by the director Saito Makoto.
Gocho Shigeo (1946-1983) produced three photography compilations, "Days," "Self and Others," and "Familiar Street Scenes," as well as one art book during his short lifetime.
We believe these pictures transcend time and filled with what at first seems to be a plain quality. His works conveys the power of human existence.
For the 30th anniversary of Gocho's death this year, both a new edition of "Familiar Street Scenes" and "Children," a new compilation of Gocho's works, will be published. To celebrate the release of these books, we chose some works from all of his photography series. The show was first held in Tokyo earlier this year and different selection will now be presented in Osaka.
Gocho Shigeo
Outline
| | |
| --- | --- |
| 1946 | Born in November 2, in Kamo, Niigata Prefecture |
| 1949 | Diagnosed as having a spinal caries |
| 1968 | Graduates from Kuwasawa Design School(Tokyo) |
| 1976 | Begins teaching photography at Nippon Engineering College and at Tokyo University of Art and Design |
| 1978 | Received New Talent Award from Photographic Society of Japan for Self and Others |
| 1983 | June 2, dies of heart failure in Kamo |
Selected Solo Exhibition
2023
Shigeo Gocho Exhibition: The Proof of "Living". Itami City Museum of Art, History and Culture, Itami, Japan
2022
For the First Time, Gocho Shigeo. Hobo Nichiyoubi (Shibuya PARCO 8F), Tokyo, Japan
2016
There was a Photographer, Gocho Shigeo. 1946-1983. FUJIFILM SQUARE Photo History Museum, Tokyo, Japan
2014
Collection III Gotho Shigeo: I, the Other. Niigata City Art Museum, Niigata, Japan
2013
Gocho Shigeo - the second. The Third Gallery Aya, Osaka
Shigeo Gocho Part 2 KODOMO – children-. MEM, Tokyo
Shigeo Gocho Part 1 Familiar Street Scenes. MEM, Tokyo
2004
Gocho Shigeo 1946-1983. Niigata City Art Museum, Niigata, Japan; traveled to Yamagata Art Museum, Yamagata, Japan; Mitaka City Gallery of Art, Tokyo, Japan.
2003
Gocho Shigeo:- A Retrospective. The Museum of Modern Art, Tokyo
Gocho Shigeo. Niigata Prefectural Museum of Modern Art, Niigata; traveled to Yamagata Art Museum, Yamagata; Mitaka City Arts Foundation, Tokyo
2002
Gocho Shigeo(1). Yamaguchi Prefectural Art Museum, Yamaguchi
Gocho Shigeo(2). Yamaguchi Prefectural Art Museum, Yamaguchi
2001
Self and Others. The Third Gallery Aya, Osaka
2000
Gocho Shigeo. Niigataeya, Niigata
1996
Gocho Shigeo. 4chome Plaza 7F4 Pula Hall, Sapporo
1995
Self and Others:-Another Gesture. Niigata Prefectural Museum of Modern Art, Niigata
1994
Gocho Shigeo. Gallery ississ, Kyoto
Gocho Shigeo:- Self and Others. Gallery Wall, Kotaru, Hokkaido
1992
The Photographs of Gocho Shigeo. Yamaguchi Prefectural Art Museum, Yamaguchi
Gocho Shigeo. Photo Gallery Mole, Tokyo
Gocho Shigeo:- Memory of Water. Tokyo Design Center, Tokyo
Gocho Shigeo's Posthumous Works. Kamo Cultural Hall, Niigata
1989
The Childhood. Gallery Frog1, Tokyo
1982
Familiar Street Scenes. Minolta Photo Space Shinjuku, Tokyo
Familiar Street Scenes. Minolta Photo Space Osaka, Osaka
1978
Self and Others. Minolta Photo Space Osaka, Osaka
Gocho Shigeo. Kamo Credit Union small Hall, Niigata
1977
Self and Others:-Another Gesture. Minolta Photo Space Shinjuku, Tokyo
1975
Fairy of the Darkness. Yoseido Gallery, Tokyo
Selected Group Exhibition
2023
The Spirit of Avant-Garde Photography: Transforming "Nothing Much" TAKIGUCHI Shuzo, ABE Nobuya, OTSUJI Kiyoji, GOCHO Shigeo. Chiba City Museum of Art, Chiba, Japan; traveled to Toyama Prefectual Museum of Art and Design, Toyama, Japan; Niigata City Art Museum, Niigata, Japan; The Shoto Museum of Art, Tokyo, Japan.
2013
1968:-Japanese Photography. Tokyo Metropolitan Museum of Photography, Tokyo
2012
What Can We Leave for the future with Photography?. Sakyukan, Niigata
2004
The Prefectural Heritage of Beauty of Niigata Prefecture:-The History of collections of the Niigata Prefectural Museum of Modern Art. Niigata Prefectural Museum of Modern Art, Niigata
2003
The History of Japanese Photography. The Museum of Fine Arts, Houston
2002
The Unfinished Century: Legacies of 20th Century Art. The Museum of Modern Art, Tokyo
2001
Gocho Shigeo and Miura Kazuto Photo Exhibition:-Ripples and Resonance-the Influence of Self and Others. Studio Ebisu Photo Gallery, Tokyo; traveled to Sendai Mediatheque, Sendai; Hakodate Photo Library, Hakodate
1999
Otsuji Kiyoji and 15 Photographers. Giacomo Manzu Museum, Tokyo Zokei University, Tokyo
Gocho Shigeo and Sekiguchi Masao Photo Exhibition:- Days and Things/1994-1999. Photo Gallery Mole, Tokyo
1998
Tokyo Photography- Kuwahara Kineo and Gocho Shigeo. Gallery 1 (Shinjuku Park Tower), Tokyo
Memory and Creative Perspective Post-War 50 years:-The History of Japanese Contemporary Photography. Umeda Navio Museum, Osaka
1992
What did Photography Convey? 1960-1980. Konica Plaza, Tokyo
1990
Tokyo A City Perspective. Tokyo Metropolitan Museum of Photography, Tokyo
1989
The people from 1965-1975:-Has Japanese Photography Changed?. Yamaguchi Prefectural Art Museum, Yamaguchi
1985
An Illustrated Book of Tokyo People. Ikebukuro Seibu Art Forum, Tokyo
1986
Tokyo A Paris Photo Exhibtion:-Part II: The Museum of Tokyo People. City Hall Gallery of 9e Arrondisse de Paris, Paris
1977
11 Italian Photographers and 11 Japanese Photographers:- Eyes, Cameras and Reality. Istituto Italiano di Cultura, Italy
1969
Photography 13 People:-Veiws-All Day and All Night. Nikon Salon Ginza, Tokyo
Publications
2022
Shigeo Gocho: Works. Kyoto: Akaaka Publishing
2013
Children. Tokyo: Hakusuisha
Familiar Street Scenes. Yagisha
1995
Childhood. Tokyo: Mole
1981
Familiar Street Scenes. Self Publishing
1977
Self and Others. Hakuakan
1971
Days. Self Publishing